Nothing Compares? Miley Cyrus Compares Well-Meaning Sinead O'Connor To Amanda Bynes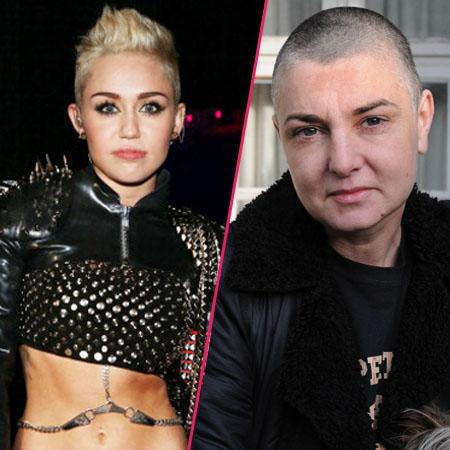 After Sinead O' Connor posted an open letter warning Miley Cyrus imploring her not to let the music industry marker her sexuality, the twerking superstar Thursday snapped back at the 90s sensation, comparing her to troubled star Amanda Bynes.
Miley inadvertently lit the fuse in paying homage to the Irish songstress, saying she hopes her "Wrecking Ball"video will serve as an updated version of O'Connor 1990 mega-hit "Nothing Compares 2 U".
Article continues below advertisement
The Grammy winner grabbed a hold of the spotlight shined on her, posting an open letter Wednesday in which she admonished Miley, "I am extremely concerned for you that those around you have led you to believe, or encouraged you in your own belief, that it is in any way 'cool' to be naked and licking sledgehammers in your videos.
"The music business doesn't give a sh*t about you, or any of us. They will prostitute you for all you are worth, and cleverly make you think its what YOU wanted.. and when you end up in rehab as a result of being prostituted, 'they' will be sunning themselves on their yachts in Antigua, which they bought by selling your body and you will find yourself very alone."
Miley, apparently not open to taking career advice from Sinead, posted an image of her tearing up a pic of the Pope on SNL; and a screengrab of a long bizarre, thread of Sinead's tweets with the caption, "Before Amanda Bynes.... There was...."