Miley Cyrus Throws Raucous House Party Mocking Government Shutdown On 'SNL'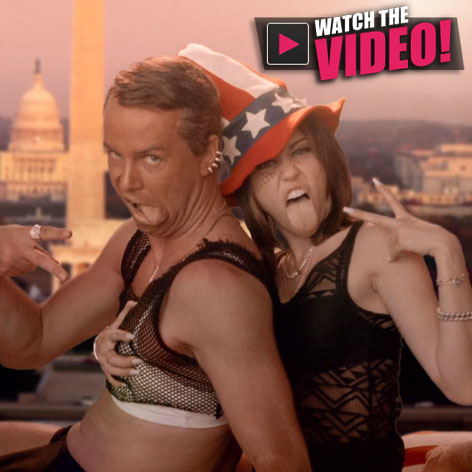 Miley Cyrus knows how to throw a party and how to make fun of herself and she did them both in a knocked-it-out-of-the-park hosting gig on Saturday Night Live.
Parodying her party anthem, "We Can't Stop," Miley starred in a sketch called "We Can Stop," spoofing Republican Congresswoman Michele Bachmann opposite SNL's fantastic Taran Killam as Republican House Speaker John Boehner.
"La da dee la dee, Republican Party, reppin' GOP, doing whatever we want, this is our house/This is our house, this is our rules, and we did stop (the government), we did stop (shut that down)," sings Cyrus, as smoke pours out of Uncle Sam's crotch and a clay toy elephant bleeds pink Pepto-Bismol.
Article continues below advertisement
Killam as Boehner gets to do all the twerking in the bit, he even gets to show off a bit of bare butt!
It's outrageous and outrageously funny, and you can watch it right HERE:
youtube=https://www.youtube.com/watch?v=Ik1bdoufPt0&w=420&h=315