Shameless Drug User Miley Cyrus Brags 'Weed Is The Best Drug In The World ... Molly Too!'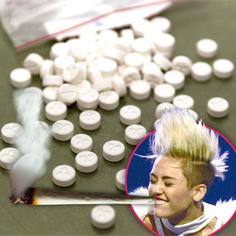 With the furor over Miley Cyrus' twerktastic VMA performance dying down, the controversy queen is stirring the pot again with a shocking new interview in Rolling Stone: Almost proudly, Cyrus brags about her marijuana use, admits her love for the dangerous party drug "molly," blithely discusses cocaine and even remembers drug-induced hallucinations in the jaw-dropping piece.
"I think weed is the best drug on earth!" Miley happily declares, before admitting, "One time I smoked a joint with peyote in it, and I saw a wolf howling at the moon."
Article continues below advertisement
"Hollywood is a coke town, but weed is so much better," she declares. "And molly too."
That party drug, a derivative of MDMA, was cited as the cause of death for several young concert-goers earlier this summer who accidentally overdosed.
"Those are happy drugs, social drugs," she says of marijuana and the deadly molly. "They make you want to be with friends. You're out in the open. You're not in a bathroom."
"I really don't like coke," Cyrus then says offhand of the illegal drug. "It's so gross and dark. It's like, 'What are you, from the 90s? Ew.'"
Liam Hemsworth's ex discussed her love for weed earlier this year when she claimed "alcohol is way more dangerous than marijuana."
Pal Demi Lovato, a rehab vet herself, has revealed that she has warned Cyrus about her drug use.
"She knows how I feel about the whole partying thing…" Demi told MTV News. "And I'm always like, 'Just be careful.' And she's like, 'Dude, I'm chilling. It's fine.'"