The (First) Lady In Red! Michelle Obama Dazzles At Inaugural Ball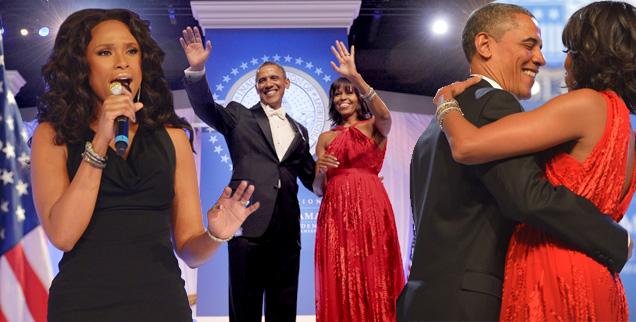 Michelle Obama was clearly the belle of the ball Monday night, dazzling the world in a stunning, custom-made Jason Wu gown hours after her husband, President Barack Obama, was sworn in for his second term as the elites of Washington and Hollywood watched on.
Wu is the Manhattan-based designer of both the red halter dress the beautiful first lady wore Monday, and the white gown she wore in 2009; he was overwhelmed with joy at the first-class task he's now been assigned to twice.
Article continues below advertisement
"I can't believe it. It's crazy," Wu said Monday. "To have done it once was already the experience of my life. To have a second time is tremendous."
Wu worked with jeweler Kimberly McDonald to create the sparkling diamond neckline that enhanced the first lady's resplendent dress, which was subsequently sent to the National Archives.
"For this occasion, it had to be real diamonds," Wu said.
The diamonds weren't the only stars glittering in the nation's capital Monday: Beyonce delivered a flawless rendition of the national anthem, Kelly Clarkson impressed singing My Country 'Tis of Thee, James Taylor sang America the Beautiful, and Jennifer Hudson, Stevie Wonder and Alicia Keys entertained at the inaugural balls following the ceremony.
Hudson, a Chicago native like the Obamas, was the first singer to take the stage singing an Obama favorite, Al Green's Let's Stay Together, as the first couple danced.
Wonder followed with his classic hit, Signed, Sealed, Delivered I'm Yours, and Keys put a presidential slant on her song, Girl on Fire, singing, "He's the president and he's on fire ... Obama's on fire. Obama's on fire."
Other stars in presence were Beyonce's hubby Jay-Z, star couple Katy Perry and John Mayer, renown Obama supporter Eva Longoria, singer Ke$ha, actor Marlon Wayans, and retired Boston Celtics legend Bill Russell.