President Barack Obama Celebrates His 50th Birthday; Watch Jennifer Hudson Serenade him!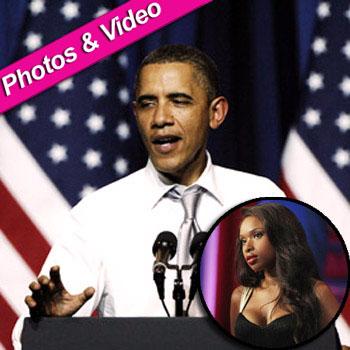 President Barack Obama turned 50 Thursday, and the commander-in-chief began celebrating the milestone Wednesday, with more festivities planned for his actual birthday today.
The First Family will host a party at the White House Thursday, including a special toast in the Blue Room. Many close friends are coming in from his hometown of Chicago for the soiree.
The president will then spent the weekend at Camp David with his family.
Article continues below advertisement
On Wednesday, the president, minus the First Lady who's in Spain, was in his hometown of Chicago for a fundraiser at the Aragon Ballroom, in which groups of supporters all over the country, holding their own birthday parties for him, wished him a happy birthday via video conference.
"By the time I wake up," he joked, "I'll have an email from AARP asking me to call President Obama and tell him to protect Medicare."
Jennifer Hudson was among the stars that showed up, and serenaded her fellow Chicago native at the event.
Some of the estimated 2,400 people in attendance, who paid at least $50, wore cone-shaped birthday hats with the number "50" and the campaign's logo.
Obama capped off the evening with a dinner of 100 donors who paid $35,800 apiece to attend. The president enjoyed a slice of a two-layer birthday cake from Eli's, one layer chocolate, the other carrot cake.
Article continues below advertisement
He said his best present would be the return of his oldest daughter, Malia, who'd spent her summer in camp.
The commander-in-chief is only the third president to turn 50 while in office: the other two are Bill Clinton and Teddy Roosevelt.
Fun fact: The president isn't the only big name blowing out candles today -- also celebrating birthdays are Law & Order: SVU star Richard Belzer (67), Angelina Jolie's ex Billy Bob Thornton (56), and embattled former baseball star Roger Clemens (49).