Matthew Badger Grief Stricken By Daughters' Deaths, 'You're Suicidal, Extremely Rageful, You Just Want To Vanish'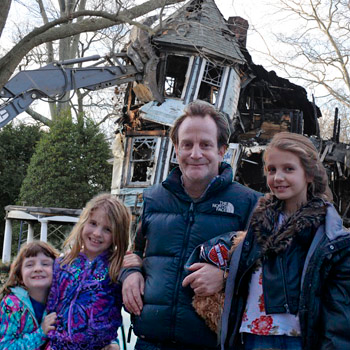 Matthew Badger, who lost his three young daughters in a horrific Christmas Day house fire just over a year ago, has revealed the depth of his pain and overwhelming anger over their tragic deaths -- and why he even contemplated suicide -- RadarOnline.com is reporting.
The devastated father appeared on Katie Couric's talk show Tuesday and opened up in a heartbreaking interview about the horrifying moment he learned of the little girls' deaths, how he has been coping with his loss, his feelings towards his ex-wife and how he is honoring the memory of his beautiful daughters.
Article continues below advertisement
"I kept thinking, this is a nightmare," he said, explaining how he felt after being told the terrible news by a policeman who arrived at his door on Christmas morning. "When you are in this state you want to kill yourself, it's absolutely natural. If your child dies on you, there is a feeling you want to go and parent them.
"I wanted to go and be a parent to my girls wherever they went. I want to talk about the extreme emotion — you're suicidal, you're rageful, you just want to vanish."
Choking back tears, Matthew went on to explain that despite the fire occurring while the girls were in the care of their mother, Madonna Badger, he refuses to sully his daughters' memory by speaking badly about his-wife.
"Those girls, our girls, loved her," he told Katie. "I will honor my girls and that is what I'm doing with my life right now. Standing up for my girls and making their lives matter. I will never say anything bad about Madonna."
Article continues below advertisement
As RadarOnline.com previously reported, the fire killed Lily Badger, 10; her 7-year-old twin sisters Sarah and Grace; and their grandparents Lomer Johnson and Pauline Johnson. All of the victims died from smoke inhalation, except for Lomer, who fell through the roof in a heroic effort to rescue his granddaughters. Badger and her boyfriend Michael Borcina were the only survivors. Matthew and Madonna Badger had only recently divorced at the time of the tragedy.