Maci Bookout Gets Into Explosive Fight With Baby Daddy Ryan After His Rehab Stint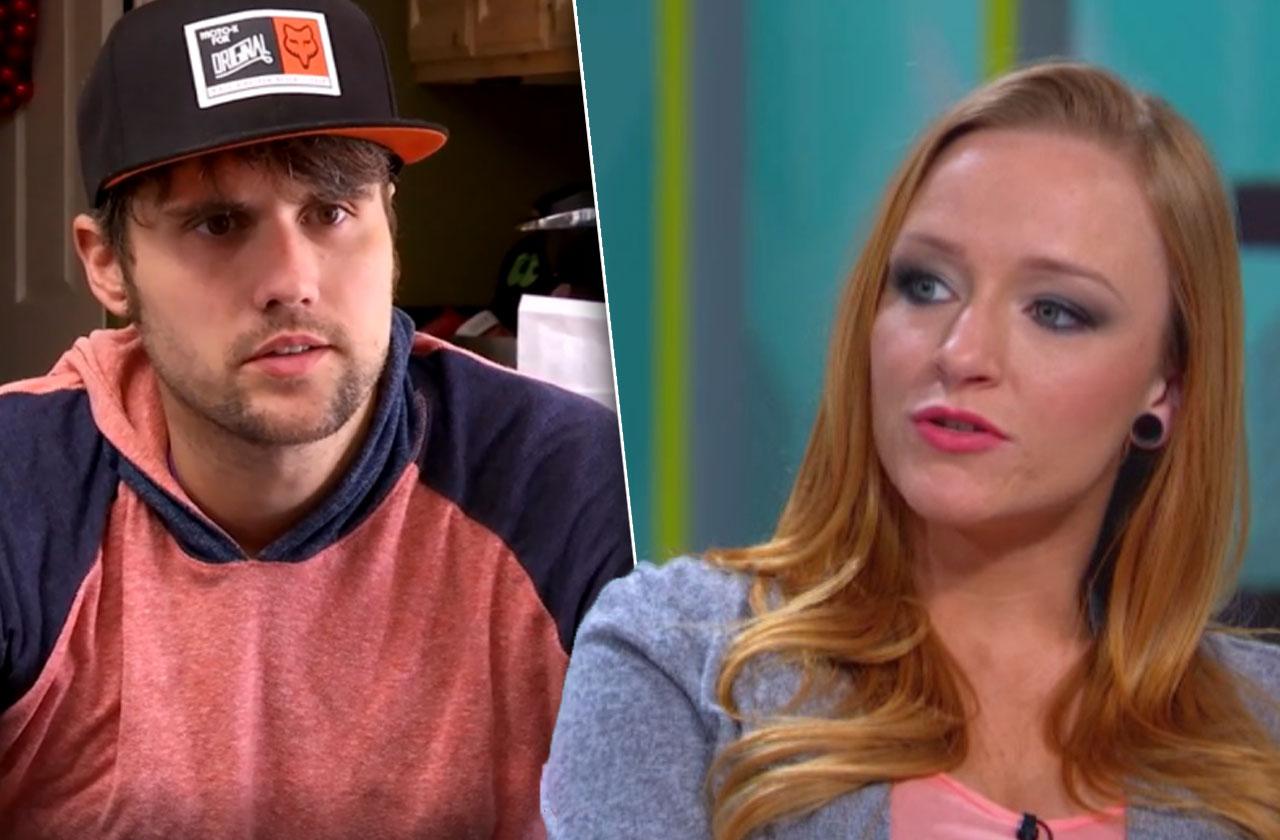 Maci Bookout's baby daddy Ryan Edwards came home from rehab on this week's two-episode Teen Mom OG, but the family's nightmare is far from over. Bookout gets into an explosive fight with him and his family.
On the episode, Edwards explained to his wife Mackenzie that he is coming home from rehab after 21 days instead of 30.
"First four days were hard, I felt horrible," he explained, adding of outpatient rehab, "They left it up to you. I'm going to try to still talk to my therapist once a week. If that doesn't work, I'll have to figure something else out."
Article continues below advertisement
His wife added that his usage was a "very scary place to be."
"Every morning I was telling you I was going somewhere that 99 percent wasn't the truth," he said. "It affects everyone around me. Thank you for helping me."
Edwards then texted Bookout to see their son Bentley, but his messages went unanswered.
"I'm just going to show up and ask what the heck is the problem," he said. "I'm so over her a**. No matter what I do I'll never be able to please her. It's my weekend and I've been gone for a month and she doesn't have enough respect to let him come over here… If I don't get him I'm going to hurt somebody."
Bookout explained to her husband Taylor McKinney that she hasn't responded because the texts have been threatening.
"I have gotten a few text messages from him that were not okay," she said. "Talking to me like that is not okay. Given the situation, there are a few other things that need to happen first. I was never kept in the loop so I had no idea what was going on."
Her husband responded, "As far as him threatening you, that's bull s**t. It's a privilege to be his father. Why should I not get to spend Father's Day with him? Why should Ryan? Spending time with your son on Father's Day should require you being an actual father."
Article continues below advertisement
Bookout decided to bring Bentley to Ryan's parents' home for Father's Day.
When she returned home, she explained how it didn't go well because he "wasn't giving Bentley the time of day."
"He said, 'I'm okay, but I just have to say I have a problem with your husband.' And I'm like, 'Well I have 100,000 problems with your snake of a wife. But this isn't about her or me, it's about your f**king son.'"
Bookout continued, "He said, 'I'll see you in court' and I laughed at him and said, 'Okay I'll see you court too buddy because that judge isn't going to give you half of what I've given you.' You can get two hours a week that's it. You have to pass a drug test and we are going to be there. You gotta build the trust back."
Edwards told his family that Bookout seems "very jealous and unhappy."
"We have to go to mediation and if it's not the time date or place I agree to, we'll go to court," he said. "I will win this."
Also on the episode, Amber Portwood continued to struggle with if she should leave her fiancé Matt Baier.
"Me and Matt are going through issues right now," she told her brother. "I'm not engaged, I don't have my ring. I feel like he's a pathological liar."
Article continues below advertisement
As readers know, Baier failed a lie detector test when he was accused of cheating.
"He told me we could separate our bank accounts," she explained. "Within the last three years, it's been $120,000 I have no clue where it went. I realized he's sending his daughter money, that's not even his money."
Although the couple talked through their issues and decided to give their relationship another shot, the fighting only continued when he returned home from seeing his daughter.
Portwood began fighting with Baier because his daughter doesn't want him to take part in Teen Mom OG anymore.
"She's saying to you, 'It's time for you to come home,' as if I had anything to do with you moving out here. Get the f**k out of here… that pisses me off."
He walked away and vented to a producer, "She should not be going after my daughter, ever. It had nothing to do with Amber."
Portwood then confronted him again, screaming, "You did not change. Three f**king years I've been with you. If she really feels that way then get out of my life and go!"
Article continues below advertisement
As for Catelynn Lowell, she revealed to her husband Tyler Baltierra that she made an appointment to get off her birth control.
"I'm thinking of taking my birth control out soon," she said. "We want to have more kids for sure. With Nova, I had really bad post partum depression. It scared me. It's been a fear for a long time. If I have another baby, am I going to have to go through all that s**t again? I can't let my fears dictate what I want in life."
But in the end, Lowell decided to reschedule her appointment.
"There is so much going on," she explained. "We want to have a big family, but we're getting the company together, the house is getting renovated on, it's a lot. Maybe when we're in the house when things are more settled. Then maybe then will be the time."
Although her husband was excited to welcome another child, he supported her decision.
Article continues below advertisement
Farrah Abraham decided to move from Texas to California. While house hunting, she revealed that she took her mother Debra Danielsen off her will because she doesn't trust her new boyfriend David.
On the second episode, Abraham goes away for the weekend with girlfriends, but her ex-boyfriend Simon Saran joins them.
"He was like, 'I like you Farrah. Let's talk. Let's try to be friends.' I don't want to be friends anymore. He adds too much drama."
Teen Mom OG airs Mondays at 9/8c on MTV.
We pay for juicy info! Do you have a story for RadarOnline.com? Email us at tips@radaronline.com, or call us at (866) ON-RADAR (667-2327) any time, day or night.