A Tragic Farewell: Lea Michele Reveals Cory Monteith's Last Words To Her In Heartbreaking New Single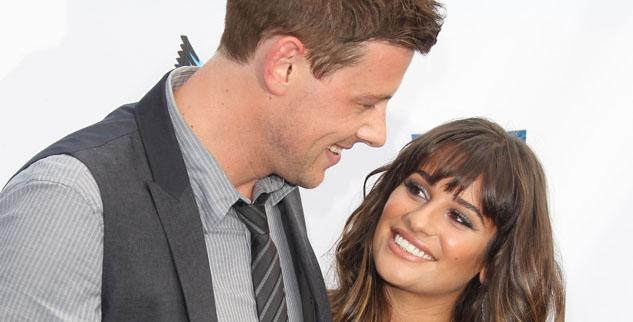 The world was stunned by Cory Monteith's tragic death from a drug overdose last July, but none more so than his girlfriend, Lea Michele, who had been busy planning their future together. Now, the Glee star is opening up about losing the love of her life -- and even sharing his heartbreaking last words -- in her new tearjerker single, "If You Say So."
Shortly after Monteith's death, Michele tells Glamour in their latest issue, she was "physically and mentally shocked and damaged." But now, Michele explains, "I feel a little more back together and I have this blank canvas in front of me, which is what my life can be. There's somethings ad about that, but also something good, because I will take that blank canvas and make something beautiful out of it."
Article continues below advertisement
Her new song, co-written with Sia Furler, is one of them.
"It's about my last conversation that I had with him," she admitted to Seventeen. "I spoke to a woman who had lost her son, and she mentioned how grateful she was that the words she said to her son before he died were 'I love you.' Mine were as well."
The song, about the week following his death, begins, "It's been seven whole days … since you paralyzed me … since you lost your fight. And I can't get the last words that you said … Out of my head."
Watch the video here:
youtube
She continues in the chorus, "Was just a week ago you said I love you girl. I said I love you more. And a breath, a pause, you said, if you say so…"
"I can't believe it's true," she sings "I keep looking for you. I check my phone and wait to hear from you in a crowded room … I thought we would grow old…"
Indeed, she recently admitted to Glamour that the two had been planning a family when he died.
Article continues below advertisement
"We talked about a lot of things," she said. "We talked about children and what we would look like when we grew old, and who would be fat and how we would stay thin. We talked about where we wanted to go and what we wanted to do."
"We were done. We were it. When you're at that place in your life with someone you talk about everything," she said.
Michele recently got a tattoo of Monteith's last words to her, "If you say so," on her ribcage.
Her album is due out on March 4.