Lea Michele's Grief Therapy: How The 'Glee' Star Is Moving On From Cory Monteith's Death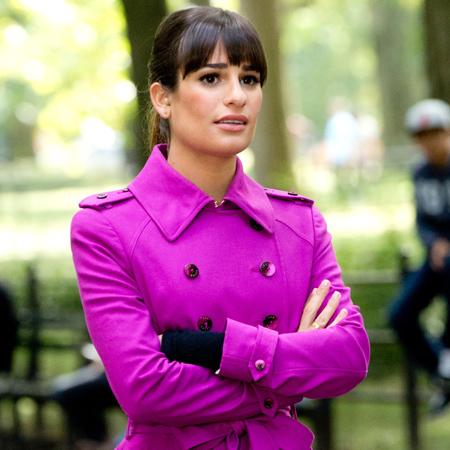 Lea Michele, reeling from this summer's shocking death of her co-star/boyfriend Cory Monteith, went to a California retreat earlier this month to learn strategies to cope with the pain, RadarOnline.com has learned.
Over the Labor Day weekend, the stunning actress, who stars on Glee as Rachel Berry, spoke to grief counselors at Esalen Institute, a spiritual retreat based in Big Sur, Calif., the U.K.'s Look magazine reports.
Article continues below advertisement
An insider told the magazine she's also "been doing yoga and meditation, walking for several hours a day and getting full body massages" during the dark days, as her late Canadian beau died at 31 of a heroin and alcohol overdose July 13.
The retreat to nature "really seems to have helped her," the insider said, adding that Lea's intent was "to celebrate life, rather than overanalyze and blame herself for not being able to held Cory.
"I think Lea wants to be able to keep herself busy on a daily basis. That's why she agreed when one of her oldest friends (identified as one-time Glee actor Jonathan Groff) suggested leaving Los Angeles behind and heading to a spiritual retreat to help her move on.
"I imagine she's doing everything she can to keep things together," the source continued. "She's such an optimistic person and I know she's trying everything she can to live life to the fullest and keep her spirits up but sometimes she needs support and guidance -- that's why her weekend at Esalen was so perfect. Lea needs time but every day, with so much support, she is getting stronger."
As we previously reported, after staying out of the public eye for weeks, Lea remerged at the Teen Choice Awards last month, where she tearfully accepted the honors with an emotional speech that paid homage to her late love and co-star.
"I just wanted to be here today to personally thank all of you and tell everyone out there how much all of your love and support has meant to me over these very difficult past few weeks," she said. "For all of you out there who loved and admired Cory as much as I did, I promise that with your love we're gonna get through this together."