Kim Kardashian's Pre-Birth Revelation: Kanye West Had 'Never Held A Baby Before'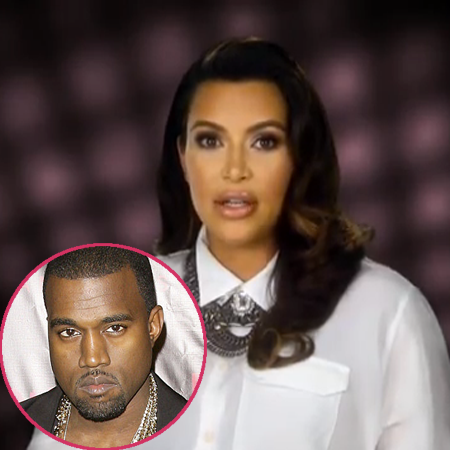 It sounds like Kim Kardashian and her baby daddy Kanye West might have been unprepared to jump into the pool that is parenthood.
"He's never even held a baby before," pregnant Kim sighed to Scott Disick on Sunday night's episode of Keeping Up with the Kardashians.
And the reality TV queen admitted of herself during a heart-to-heart over lunch with Scott, "Most kids I don't like -- I've gotta be honest."
Article continues below advertisement
Still, Kim was optimistic about parenthood with her musician boyfriend, saying, "I think Kanye will be so obsessed and so into it."
And Kim, with Scott helping her, bizarrely sent a picture of a baby stroller to Kanye to see if he would like the color of the stroller. Kanye has been the invisible man on this season's KUWTK--sometimes mentioned, and once heard over the phone, but never yet seen on-camera. The rapper has said he won't be appearing on KUWTK.
"I want to see what skin tone my child is before --" Kim said.
"The kid's going to be black," Scott said.
Kim replied about the stroller, "It'll be a variation of a skin tone, so I'm just trying to see what color will look good."
Viewers have watched Kim's pregnancy play out on the show this season while already knowing she gave birth to her and Kanye's daughter, North West, prematurely in June.
In a foreshadowing of what was to come, Kim told family members on Sunday's show that docs had told her, "My baby's a little small to average."
Article continues below advertisement
And Sunday's episode also revolved around Kim searching for a new rental home with enough privacy for her, Kanye, and the new baby. Although Kimye had bought a house, the renovations wouldn't be complete when their baby was born. But momager Kris Jenner urged Kim to move in with her instead!
"I could help you when the baby comes home from the hospital," pushy Kris said, also pointing out that paparazzi photographers wouldn't be able to enter her gated community.
However, Kim didn't like Kris' all-black bathroom, which big sister Kourtney laughed even included black toilet paper that left flecks of black "in your genitals."
Kris said, "You are so picky about every single thing."
But more importantly, Kim mused in a confessional, "I don't know if this is the right environment for us to learn how to raise a newborn."
While Kanye was in Paris recording his album, Kim invited Kris to help her look at houses.
Article continues below advertisement
"I've looked at so many different houses, nothing feels right," she said. "Trying to find a place to live is stressing me out."
"Move in with me, it's so much easier," Kris said.
Kris called Kim later to put the pressure on even more.
"Just give me a month at my house," she said.
Finally, Kim gave in: "We'll give it a shot ... while I look."
Kris couldn't have been more thrilled!
And, at the end of the episode, after Kim told Kris she had really bad heartburn, she got some TLC from mom, who told her her swollen feet looked "like baby balloons" and put Kim's feet up on pillows.
Article continues below advertisement
"There's a lot going on for me to look at," Scott said about Kim's big boobs and butt, while visiting her at home.
Later, Kourtney got pissed when she found out Scott was having dinner with Kim instead of her. Scott said he was just trying to be helpful, while admitting he didn't have the best track record.
Scott went to a CPR class with Kim so she could learn safety for the baby. They did compressions on dummies' chests and practiced the Heimlich maneuver.
Kourtney asked Scott where he'd been. Scott told her he'd done a CPR class with Kim. Kourtney said he was "shady" by not telling her ahead of time. He was "willing to go above and beyond" for Kim, but not for her.
Scott thought she was overreacting and fumed, "I can't really win with you."
After Bruce Jenner and sister Khloe helped Kim pack and move into the Jenner home, the entire clan got together to help her. But Kourtney was still angry with Scott, telling him, "You don't do any of this at our house."
Article continues below advertisement
Mama Kris said, "Kourtney, don't be so jelly."
Kourtney then had a meltdown and attacked Kris, saying, "You had a hundred nannies!"
A shocked Kris told her first born, "What? I had no one when you were born, no one, Kourtney!"
"You had a nurse," Kourtney told her mom.
Then Scott chimed in that "she claims you didn't raise her!"
The argument ended with Kourtney, mom of son Mason and daughter Penelope, stalking out of the room saying, "I'm over it."
Kris smirked to the others, "You know what's going on there. She was the center of attention since the day Mason was born."
Scott and Kourtney had talk later to clear the air, with the baby daddy telling Kourtney he didn't want any tension between them.
Kourtney said she felt like Scott treated her differently after the second baby, no longer being "obsessed" with her.
Scott admitted, "The first time around, I was there for you more the second time."
Article continues below advertisement
Kourtney concluded Scott was definitely growing up and they kissed and made up.
In another show storyline, Bruce competed with his son Brandon in a ping pong tournament at the Malibu Inn. The former decathlete was so desperate to win he bought a ping pong machine to shoot balls at him, but Brandon countered by secretly practicing with a professional.
Although Bruce wore his tee shirt from the Olympics in 1976 to intimidate his son, in the tournament, Bruce didn't even make it to the finals while Brandon finished in second place.
"My DNA lives on," Bruce said happily about one Jenner doing well, while Brandon was happy to finally have beaten his dad in something.
And in the creepy opening to the episode, brother Rob Kardashian told his sisters that he was going to start a porn company with the help of Khloe's husband, Lamar Odom!
"Lamar actually gave me this idea. He's going to back it -- starting a porn company," Rob said. "I know so many porn stars. Do you know how much money is made in porn?"