Exclusive
Where's Kourtney? Scott Disick Parties Until 3AM While She Stays Home With The Kids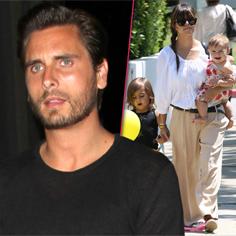 Scott Disick takes his partying duties very seriously and RadarOnline.com has exclusively learned that he was out partying two night this week while Kourtney Kardashian was nowhere to be found.
Lord Scott, as he loves to be called, hit up Hollywood nightclub The Cosmo Tuesday night with a bunch of guy friends where an eye witnesses say that he partied the night away.
"Scott and his buddies showed up and spent the whole night in the VIP area at the club. They were surrounded by lots of really hot girls!
Article continues below advertisement
"They all were ordering and drinking Dom Perignon Luminous and Don Julio 1942."
A total night owl while his baby mama was at home, Scott, his buddies and the girls shut the place down.
"Scott ended up partying until the club closed at 3 AM."
RadarOnline.com has exclusively learned that this is the second night in a row that Scott has been out partying without his baby mama.
"Scott arrived to Hollywood's Emerson Theatre nightclub on Tuesday evening 'well after midnight' with street artist Alec Monopoly," a source said about the Keeping Up with the Kardashian's star.
"He was sitting at a table with several guys and girls and he drank Amstel Light while smoking cigarettes."
Kourtney has been trying to curtail Scott's solo partying lately, showing up at the Sapphire Day Club in Las Vegas where he was partying.
But the 3AM nights aren't out of character for Scott either.
RadarOnline.com previously reported that while on a recent trip to London Scott parties until 3 am with two mystery blondes.