Oh, No, Not Again! Kim Kardashian Gets More Cosmetic Work Done On 'KUWTK'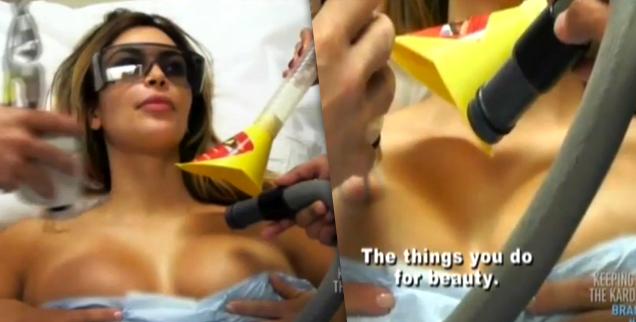 Kim Kardashian is still not through cosmetically tweaking her look!
As RadarOnline.com recently reported, Kim has stirred concern from top docs wondering exactly what she's done to her face, and Sunday night's Keeping Up with the Kardashians episode featured Kim paying a visit to Beverly Hills cosmetic dermatologist Dr. Simon Ourian.
"Tell me what you want to do and we'll get to it," the doctor told her.
Article continues below advertisement
Kim confided, "I'm obsessed with my hands -- I think they look really wrinkly. Is there anything to tighten them, just so they make my hands look longer?"
The doctor joked about how she was right to think about her hands -- now that she was wearing that big diamond engagement ring from Kanye West!
Kim also wanted him to remove a scar on her big toe.
Dr. Ourian then went over Kim's whole body, blasting imperfections with a laser using three different machines.
Kim's friend, Jonathan Cheban, who was in the doctor's office with her, comically held one of the hoses up near Kim's chest!
"It works for stretch marks," the dermatologist told the beauty-obsessed reality star.
"Really?" said Kim, who gave birth to Kanye's daughter, North, last summer.
"The things you do for beauty," she laughed.
Later in the episode, after Scott Disick told Kim she looked better with a natural look, the reality beauty laughed, "Thank you, Kanye!," implying her man had told her the same thing!
Article continues below advertisement
They Really Did Say It! 50 Outrageous Kardashian Quotes
But it obviously hasn't dissuaded her from getting work done.
Sunday's episode also dealt with Kendall Jenner's desire to move out of Kris Jenner's house after she turned 18, as Radar has previously previewed.
"It gets lonely," Kris said told friends about when she's been alone in the house.
She told the cameras she couldn't believe Kendall was turning 18 and felt that was way too young for her to be on her own. But while Bruce Jenner told his daughter her own house would be a big responsibility, he encouraged Kendall's dream and helped her house hunt.
Watch the video on RadarOnline.com
When the family rented out Magic Mountain for Kendall's birthday party, Kris confronted estranged husband Bruce about aspiring model Kendall moving out.
"I think she should stay home," Kris said.
Bruce got angry and told Kris, "It's time for her to take this next step in life."
Once sitting next to Kris on a roller coaster ride, Bruce pointed out that Kim had moved out at age 18, and Kendall was more mature.
Article continues below advertisement
"It would be perfect for her to have her own place," Bruce said as Kris got distracted and screamed on the roller coaster.
But the momager wasn't giving up and challenged Bruce to play a carnival style game to decide Kendall's fate. Kris won and demanded to Bruce, "You gotta back off."
But later, Kendall and Bruce convinced Kris SHE was the one who needed to back off.
"'I need to realize Kendall is an adult and let her be a grownup," Kris admitted to E!'s cameras.
In another Sunday plot-line, Kourtney instigated a yard sale and the gang agreed to clean out their closets to benefit charities. Kris' kids laughed about her being a hoarder and later went through their mom's stuff, to her dismay.
She had six potato peelers!
"It might go back to my childhood when I thought we couldn't afford it," Kris said of her hoarding.
Then Kris and Bruce were going through a box for a yard sale that evoked memories, as she found the white shoes she wore when she married the decathlete.
Article continues below advertisement
But who turned out to be the real hoarder? Kourtney had a meltdown when they sold sentimental items at the yard sale. Finally, she came around to believing her old junk needed a new home with someone else enjoying it.
The other KUWTK story of the night involved another birthday as Bruce Jenner turned 64 and Khloe decided to throw him a party.
Khloe Kardashian called Kim and Kourtney and said she was planning a dinner for Bruce, saying she wanted their stepdad to really feel the love.
"I didn't even think to plan something," Kim told the cameras, admitting she'd been too busy to think about Bruce.
However, she slammed Khloe for being "Little Miss Perfect," who "thinks of everything first to make us look bad," and decided she needed to up the ante.
Kim tracked down two men who were Bruce's 1976 Olympic teammates to come to his birthday dinner. When they did, Bruce was touched almost to tears.
And Kris got choked up, too, as she said she had heard stories about Bruce's Olympic buddies and experiences for 23 years.
Keeping up with the Kardashians airs Sundays at 9/8c on E!