Jimmy Kimmel Mocks Bruce Jenner, 'Now You're Our Weird Aunt Bess'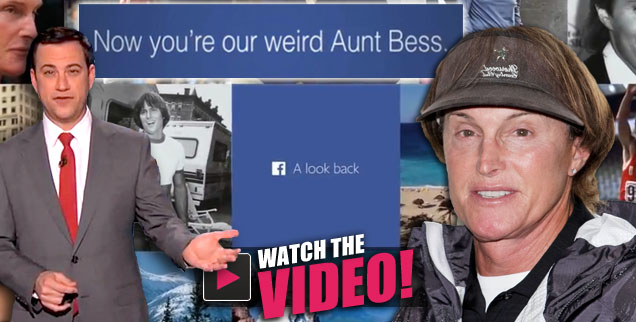 Jimmy Kimmel has jumped in on Bruce Jenner's dramatically changing appearance.
The late night funny man gave Jenner a Facebook Timeline treatment, starting pics of a young, athletic Bruce, billing them as "When You Were A Man" and on to the present, with his long hair and nails, saying, "Now You're Our Weird Aunt Bess."
Even more comically painful, Kimmel included one image from the future, 2018, to be exact, and it is actually a pic of Michael Jackson's plastic surgery-ravanged face!
Article continues below advertisement
There's no word on what Jenner or his family thought about the parody.
As RadarOnline.com reported, two of Bruce's sons have admitted their dad is going through "an identity crisis."