Exclusive
Kris Jenner 'Furious' Khloé Kardashian Revealed She Thought Her Daughter Needed Nose Job As A Child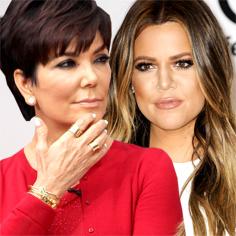 Kris Jenner is furious that her daughter Khloé Kardashian revealed that when she was nine years-old, she heard her mother say she needed a nose job, RadarOnline.com is exclusively reporting.
The momager is even saying the revelation is ruining her family ski vacation in Park City.
In a very revealing interview with Cosmopolitan U.K., Khloé said, "Words are the most powerful weapon; they can leave scars forever. She didn't mean harm, but when I was around nine I overheard my mom telling her friend I needed a nose job. I was shocked; I hadn't even thought about it," a source told Radar exclusively.
Article continues below advertisement
"I've grown into my face but I've had makeup artists tell me, 'You should get a nose job.' I'm so happy that I never have."
Failed talk show host Jenner was "absolutely blindsided by the nose job comments her daughter made in the interview. She wasn't given a heads up it was even discussed! Kris has been getting heavily criticized on social media and she has been reading all of the negative comments. She is furious with Khloé for even bringing it up, and thinks it makes her look like a bad mother," the source said.
The soon-to-be-ex Mrs. Odom goes on to say she is looking forward to a fresh start in 2014.
"You only live once so let's make that one time perfect. We can't fix our mistakes and imperfections, so let's have fun. You get what you give out in life," she added. "I don't regret anything about my life. My life has made me who I am at this moment and I'm very happy with who I am. No matter if it's great, disgusting, beautiful or ugly; it happens and it makes you you.
"Life is about how you process things."
Meanwhile, Kim has been "comforting Kris and telling her it will all blow over. Kris is very appreciative of Kim, and knows she always has her back. Kim would never make comments about her mother that would create such a controversy," the insider added.