Khloe Kardashian: Kris Jenner Wanted Me To Get A Nose Job — When I Was 9-Years-Old!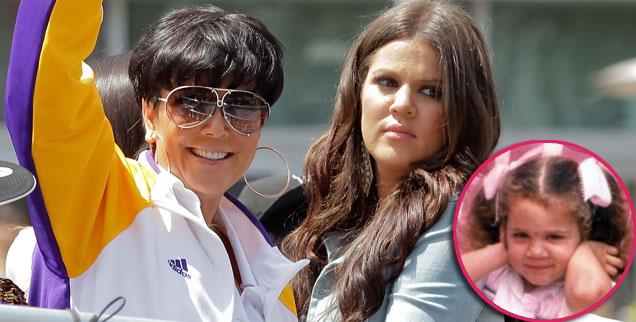 Khloe Kardashian claims when she was just 9-years-old, she overheard her mother Kris Jenner telling one of her friends that her youngest daughter needed to get a nose job, RadarOnline.com is reporting.
In a very revealing interview with Cosmopolitan U.K., Khloe said, "Words are the most powerful weapon; they can leave scars forever. She didn't mean harm, but when I was around nine I overheard my mom telling her friend I needed a nose job. I was shocked; I hadn't even thought about it.
Article continues below advertisement
"I've grown into my face but I've had makeup artists tell me, 'You should get a nose job.' I'm so happy that I never have …"
The soon-to-be-ex Mrs. Odom goes on to say she is looking forward to a fresh start in 2014.
"You only live once so let's make that one time perfect. We can't fix our mistakes and imperfections, so let's have fun. You get what you give out in life," she added. "I don't regret anything about my life. My life has made me who I am at this moment and I'm very happy with who I am. No matter if it's great, disgusting, beautiful or ugly; it happens and it makes you you.
Article continues below advertisement
"Yes she appears to have had a nose job in my opinion," Dr. Anthony Youn, a prestigious plastic surgeon and founder of Youn Plastic Surgery, previously told RadarOnline.com after looking through photos of Kim over the years.
"Kim appears to have had her nose thinned and the bump removed. Her nose looks more glamorous and elegant than it used to, contributing to her Hollywood good looks."
Youn, who has never treated Kim, gives the thumbs up the surgeon who allegedly worked on her nose.
"Kudos to her plastic surgeon for what appears to be a job well done," he said.
But three years ago Kim denied ever going under the knife, telling ABC's Nightline in 2010 that she'd never had a nose job.
"I'm totally not against plastic surgery, I've tried Botox before. That's the only thing that I've done," she said.
"I've never had my nose done."