​'This Is Just A Sick Joke!' Kim Kardashian Revolted At Blackface Prank WATCH The Disturbing Footage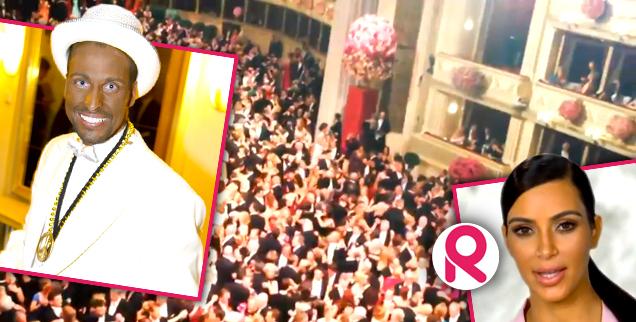 Article continues below advertisement
Watch the video on RadarOnline.com:
"There are about 5000 people here, there is a beautiful ballet going on — opera singers, dancers — but it is super glamorous and super claustrophobic," Kim said, before Stephan emerged in the distasteful disguise, exacerbating the bad blood by declaring, "It's me, Kanye!"
In an off-camera interview, Kim, who has a biracial child with her hip-hop hubby, made clear her disgust for Stephan's schtick.
"I can't believe there's this guy is in blackface — I am just so confused I don't get why him or anyone else would find this funny," she commented. "That's like, not cool. This is supposed to be some really nice, upscale event, how did this guy get in? This is just a sick joke!"
"I just am so confused, I don't get him or anyone else would find this funny."
As we previously reported, Kim left the event after the encounter; Stephens later said sorry for the egregiously offensive costume.
"I'm really sorry that the story has gotten so messed up and misunderstood," he said in February. "I myself am Arab, born in Austria! I didn't want this act to be in any way racist, and I'm sorry again for anyone who felt attacked!"
Keeping up with the Kardashians airs Sundays at 9/8c on E!