Exclusive
Racism Complaint Filed Against Tech Giant Apple! Victim Claims He Was Told 'Black Employees Don't Reach Management' — Read The Document Detailing His Allegations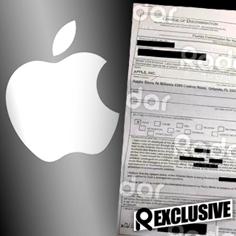 Article continues below advertisement
Dupree filed a complaint with the Florida Commission on Human Relations and RadarOnline.com has learned it is now being investigated by the Equal Employment Opportunity Commission.
Lashing out at the worldwide company founded by Steve Jobs, Dupree told RadarOnline.com why he filed the complaint and is going public with his charges, despite still being employed by an Apple retail store.
"I was not given a job, despite being told that I was going to be given a transfer, because of one manager's racism," he said about what he allegedly faced. "I blew the horn as loud as humanly possible and they did nothing. I want the focus to be on Tim Cook, Apple and their failure to address the racism in the company. Racism that they knew about."
Dupree's Charge of Discrimination form, filed on December 18, 2013, details his claims:
When I was in the Orlando Store under the Supervision of XXXXX, Senior Manager, she had make a statement prior to me transferring to Australia that Blacks in the Orlando location don't have a chance to make it to management.
I did not express my concern to management at that time because I was transferring to Australia.
Article continues below advertisement
Once XXXXX got involved with the transfer process I was denied a transfer to a management or leadership position. There are no Blacks at the Orlando Store that hold a leadership position or have opportunities to be promoted to management position.
I believe that my upward ability at the Orlando Store is being hindered by XXXXX intention to discriminate against Blacks who are qualified to a hold a management position.
I believe that I am a victim of discrimination because of my Race, Black in violation of the Title VII of the Civil Rights Act of 1964, as amended.
Apple spokeswoman Michaela Wilkinson informed RadarOnline.com on May 28 that the company had filed a response to Dupree's claim on May 19, 2014, which Dupree says he learned about nine days later.
He subsequently contacted the EEOC and told RadarOnline.com, "The senior federal investigator informed me that that Apple responded to the charge and sent in documents for their side. The investigator informed me that they could not share Apple's response with me because they were still reviewing the response. The next step is simple. I have the option of either letting the EEOC go forward with their investigation or getting the right to sue and going after them in court myself."
Article continues below advertisement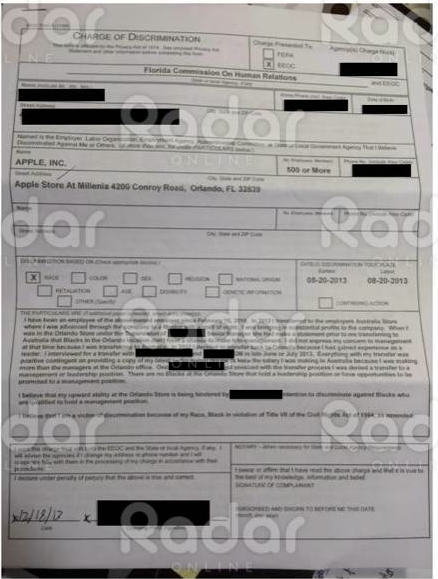 He says the ordeal all started when after working in an Orlando area Apple retail store, he transferred to a Sydney, Australia store and allegedly increased the results of the "Easy Pay Program" there.
("Easy Pay Program" is designed to increase the amount of customers who come into the Apple store and make purchases using their Apple devices.)
Dupree told RadarOnline.com that the program was hitting a success rate of 1.6% of sales done via Apple devices at the Sydney store when he arrived and less than a month after he implemented new policies, the success rate increased to 14%.
You Can Sue For That? The 53 Wackiest Lawsuits
"I did numbers myself and then I trained employees. I wrote a full synopsis to make it a sustainable goal for entire store," Dupree said.
Article continues below advertisement
After a year in Australia, Dupree wanted to return to the United States and grow with Apple, a company he said he had always dreamed of working for.
He claimed, "When I got the job I was told 'You can do anything, affect the world, enrich lives.'"
However, he told RadarOnline.com that he ended up filing the case of racial discrimination after allegedly being informed he would not be placed in a management position in Orlando after his transfer, and then was let go from the company for four months.
"I filed my complaint because of what I have seen and heard in my market," he said. "You hear it so much that you get numb to it. They preach that dream to you so much at Apple. Then I tried to move up the ladder. And nothing happened. I watched people around me who did less work getting promoted and none of them were black. The last straw was when my manager destroyed my chances of moving up."
Prior to filing the complaint, Dupree claims that he tried to raise the issue of discrimination with his superiors but after allegedly not receiving any response he sent an email directly to Apple CEO Tim Cook, which he has provided to RadarOnline.com.
Article continues below advertisement
Sent on August 28, 2013, the email allegedly shows Dupree writing to Cook requesting a meeting to discuss his transfer situation.
Dupree told RadarOnline.com that a meeting was set up between Dupree and two members of the Human Resources department for mid-September.
They arranged a conference call that finally took place in October 2013 and during the call Dupree says he raised his concerns about his manager prohibiting him from obtaining a management position and his "concerns in dealing with" them.
"Before I left for Australia she had made several insensitive comments about minorities that was not related to work but nonetheless hurtful," Dupree allegedly told the HR team during the conversation.
"I've heard her referencing Justin Timberlake having more talent than other R&B artists and it pissed her off that black artists say he stole their style of music and that he's so popular because he's a white artist doing black music," he claimed.
Article continues below advertisement
He continued, allegedly telling the HR team that the manager's statements about race bothered him and made him believe that he had no opportunity for a promotion because they "commented that black employees don't reach management in this market."
You Can Sue For That? The 53 Wackiest Lawsuits
But he claims his comments were ignored.
"The main thing that drew me to Apple was the promise of a great company, a great career and I wanted to make a bigger difference," Dupree told RadarOnline.com.
He claims that after his time off, he was hired back by Apple in December 2013, but he was denied a managerial position yet again, and that is what prompted him to file the complaint with the Florida Commission on Human Relations.
The 17 Highest Paid Media Figures On TV
"Apple said 'Give us results' and I would do that and go above and beyond, but there was always an excuse or technicality of why I couldn't be promoted," he said. "I thought I was doing ten times more than anyone else and I wasn't being promoted."
Dupree told RadarOnline.com that he couldn't stand by any longer and feel like Apple was discriminating against him because of the color of his skin, and having everyone, including CEO Cook ignore the alleged racism.
"It was like making the all-star team, coming down to the D league and then being told you're not good enough," he said. "I gave them the opportunity to end it. There was no more talking for me at this point, it's just action."