Just Another Bigot? Justin Bieber Linked To ANOTHER Racial Incident, Said The N-Word 5 Times In Parody Of His Song 'One Less Lonely Girl'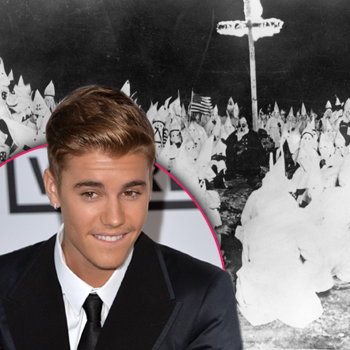 The hits keep coming for Justin Bieber, as a clip of the singer belting out a racist parody of one of his own songs — complete with references to the N-word and the KKK has come to light.
The Canadian singer altered
the words of his tune 'One Less Lonely Girl' to 'One Less Lonely N-word,' according to Britain's The Sun, barking out the racial epithet FIVE times in a clip believed to have been taped in 2009.
Article continues below advertisement
"Unfortunately this is the devastating reality of how Justin has behaved and reveals his attitude toward such a deeply emotive subject," a source told the outlet of the impertinent. "People need to see this. Normal kids in society do not make these kind of jokes."
"He is protected by a network of staff, but the camera doesn't lie." According to online reports, the singer's camp was aware of the existence of the video, but declined to shell out $500,000 to the person who leaked it to keep it under wraps.
The latest offensive leak comes fresh on the heels of his apology for a 2009 clip published on in which he echoed the aforementioned racial epithet in a joke.
"I'm very sorry, I take all my friendships with people of all cultures very seriously and I apologize for offending or hurting anyone with my childish and inexcusable behavior,' he gave in a prior statement regarding the career-damaging leak."