Jon Hamm Covers Men's Fitness' May Issue; Opens Up About Everything From Draper To Bieber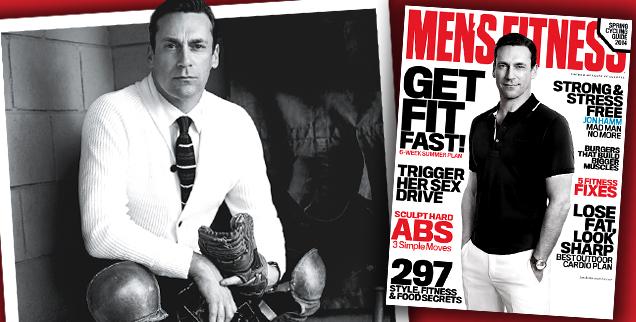 It's going to be a Mad May!
Jon Hamm is on the cover of Men's Fitness' May issue, and it's the Mad Men star as you've never seen him before, as the unfiltered A-lister dishes on everything from life after Don Draper to his advice for Justin Bieber.
Don't need us to convince you to pick up the issue? Get it right now, right here!
In an in-depth, eight-page feature, following an exclusive, no-grounds-out-of-bounds interview with Men's Fitness, Hamm, who will hold down his first leading role on the big screen in this month's Million Dollar Arm, takes the award-winning men's lifestyle magazine behind the scenes of Mad Men and talks about his plans for life after Don Draper.
Article continues below advertisement
And then things get really interesting.
Hamm, a die-hard St. Louis Cardinals fan, tells the magazine about his secret celebrity baseball league with Interstellar star Casey Affleck.
The games "are always somewhere way the f*** out in the Valley, and you look around and it's like, all 11 of us decided to show up here in the morning, hung-over, still drunk, missing kids, pre-church, whatever," Hamm said.
Watch Behind-The-Scenes Video From His Men's Fitness Photo Shoot:
radar_embed service=5min.com src="http://pshared.5min.com/Scripts/PlayerSeed.js?sid=281&width=560&height=345&playList=518191478"
On the baseball diamond, Hamm plays catcher, a notoriously-dangerous position and considers himself a bit of an adrenaline junkie, albeit one with a conscience.
"I snowboard and ski and do all kinds of stupid s**t," he said. "But I also don't go crazy. When I ski, I'll go into the moguls and immediately think, 'Oh, yeah, there's a reason I don't do this.'"
Article continues below advertisement
But, ironically, his biggest collisions have gone down on the plush set of Mad Men, for which he can thank for a broken hand and separated shoulder.
Watch Jon Hamm Gives Love (And Other) Advice
Hamm's on-set injuries are nothing, though, compared with the damage he sees young Hollywood talent inflicting upon themselves.
"Look at Bieber or whoever," he says. "You're like, 'What the f**k, man? What are you doing? Why?' There's no one telling those people no, and it's a shame."
What young celebs like that really need, Hamm says, "is a mom or a dad or a really good friend who can say, 'Hey, sh**head!' You see people in the world and you're like, 'Do you know how a washing machine works? Do you know how to wash a dish? Life skills are something we're missing.
"There used to be a class that kids had to take in high school called home economics, which was cooking and sewing and just s**t you needed to learn in life."
Article continues below advertisement
Bieber isn't the only person Hamm takes aim at — and he's not afraid to get political. He believes in success, and notes "this weird backlash" against being ambitious and upwardly mobile in America.
"It's this Sarah Palin kind of conversation where they're like, 'Oh, the elites,'" he says. "It's become a thing to just aspire to be a regular person. No, actually, you should desire to be better."
Strong words from a strong, confident man gracing the cover of one of Men's Fitness' strongest issues yet. Trust us, you don't want to miss this one.