Jon Hamm Thinks 'It's Rude' That People Talk About His Impressive 'Privates'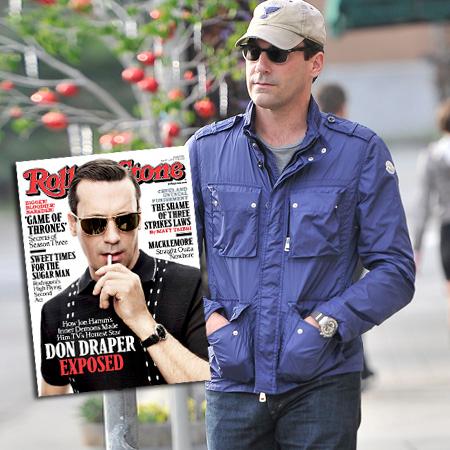 Jon Hamm may show off his gentleman genitalia by not wearing underpants, but that doesn't mean people have the right to talk about it!
The hunky Mad Men actor, who has garnered a lot of attention in the media for his private parts, sounds off on the hot topic in the new issue of Rolling Stone, declaring that "it is a little rude" that people have started blogs about his male member – and RadarOnline.com has the details.
Article continues below advertisement
"Yeah, I'm familiar," Hamm says "glumly" when asked about the attention focused on his goods. "Most of it's tongue-in-cheek, but it is a little rude. It just speaks to a broader freedom that people feel like have – a prurience."
The actor, who has been in a relationship with Jennifer Westfeldt for more than 14 years, continues to rant about the online presence of his penis.
"They are called 'privates' for a reason. I'm wearing pants for f**ks sake. Lay off. I mean, it's not like I'm a f**king lead miner. There are harder jobs in the world. But when people feel the freedom to create Tumblr accounts about my cock, I feel like that wasn't part of the deal."
However, he does show a certain amount of gratitude on the topic.
"But whatever. I guess it's better than being called out for the opposite."