'Racism Is Alive And Well In America' Video Mother Responds – 'I Am Not A Racist. I Have A Black Cousin!'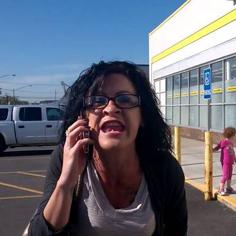 The mother-of-two from the viral video that shows her repeatedly calling a black man the N-word after some type of exchange has addressed her side of the story.
In an interview with Todd Anderson from WBLK, a local New York radio station, Janelle Ambrosia had listeners hear her side of the story. After explaining to the radio host that the black man behind the camera allegedly nearly hit her son with his car, prompting her vicious attack, she asserted that she doesn't harbor any hateful feelings towards black people because she actually has a black family member.
Article continues below advertisement
Listen to the interview on RadarOnline.com WARNING: Contains NSFW Language
youtube=https://www.youtube.com/watch?v=pxfY5UTUHSA&w=560&h=315
"I am not a racist," Ambrosia says. "I have a black cousin."
She also adds a mental health issue to her reasoning, saying, "He just pissed me off. I'm bipolar."
She also proceeds to give a vocabulary lesson in which she says that the n-word isn't a racist term.
"Quite frankly if you look it up, n-word means an ignorant person. It has nothing to do with race," she says.
Toward the end of the interview it sounds like Ambrosia starts to cry after revealing that her ex-husband allegedly wants to take their children away from her in light of this video. She also gives one final plea.
"I'm just not a racist," she says. "If he didn't try and almost hit my kids none of this would've happened."
She never actually apologizes for her rant. In fact, she claims the videographer ruined her life.
"He has no business posting anything especially of my children on the f*cking Internet," she says.
"Oh what am I supposed to apologize?"
So, what do YOU think of her explanation? Sound off in the comments!