'Ignorant' Rihanna Slammed For 'Dumb' Remarks About Israeli-Palestine Conflict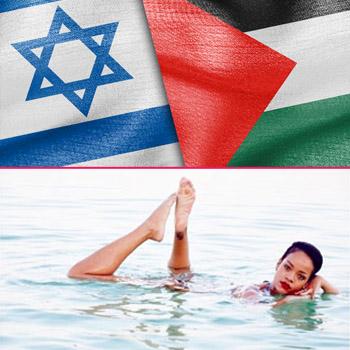 Pop stars shouldn't dabble in politics. That's the message fans sent Rihanna earlier this week after the singer stirred up conflict during a tour stop in Tel Aviv.
RiRi's visit to the country of Israel had been shadowed in controversy even before her arrival, as the Boycott, Divestment, and Sanctions movement -- a group working for recognition of the Occupied Territory of Palestine -- urged her to cancel her performance rather than perform in what they call an "apartheid" state.
Article continues below advertisement
But immediately upon arrival on Tuesday, the singer appeared to take sides, posting a series of Instagram photos hash tagged #Israel. And pro-Palestine fans were quick to post incendiary response.
For example, user @simon_7anna wrote, "The name is Palestine, not f****n Israel … you r nothing but accupiers sic came to palestine and took it by force … israel dosent sic exist on the map."
"Your sic dumb … you ignorant piece of sh*t," @_lovesara wrote.
And @sweeti_sara chimed in, "No matter what, Israel doesnt have a country … They are trying to steel sic one and palestainian sic people have the right to kill each and every one of them …"
Perhaps shocked by the fiery outpour on Instagram, Rihanna changed her tune -- literally -- during her concert on Tuesday night. She never once mentioned the word "Israel," according to reports, and even changed the lyrics to one of her songs to give a shout-out to Palestine.
Article continues below advertisement
In "Pour It Up," instead of singing "all I see is dollar signs," she sang, "All I see is Palestine."
Rihanna didn't stick around to witness the response, jetting out to the Dominican Republic almost immediately after the show, but response on Twitter has been supportive, with even Israeli newspaper Haaretz admitting that despite a two-hour delay and the show's political content, "her fans didn't seem to mind."
This was Rihanna's second political faux pas in just a few days. Earlier this week, she was thrown out of the Grand Mosque in Abu Dhabi after posing for risqué photos on the grounds, as RadarOnline.com reported.