Exclusive
Donald Sterling 'Really Affectionate' With Young New African American Girlfriend During Romantic Weekend Getaway​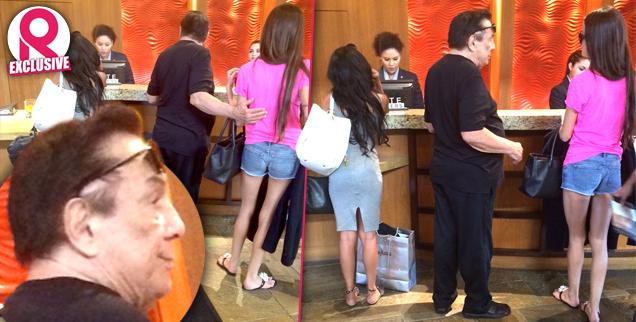 Article continues below advertisement
"Donald checked into the Marriott on Friday and was with a new much-younger girlfriend," the spywitness told RadarOnline.com.
"He didn't seem to have a care in the world and it looked pretty clear why that chick was with him. They were being really affectionate with each other."
In the photos obtained by RadarOnline.com, Sterling is seen in black pants and a simple black t-shirt checking into the hotel with a young lady in denim shorts and a pink shirt.
A second eyewitness tells RadarOnline.com they saw Sterling shopping with his new gal pal earlier in the day on June 13 at Saks Fifth Avenue in Palm Desert.
"He was shopping at Saks with a new black girl," the eyewitness told RadarOnline.com.
"He was also socializing with a black worker there as well, which I found very ironic."
Sterling left his problems with the Los Angeles Clippers behind, soaking up the sun just two hours outside the city.
Article continues below advertisement
Sterling is allegedly having the PIs look into former and current NBA commissioners and the 29 other owners. They'll be investigating to see if any of the other owners ever have made "off-colored jokes or racist or sexist remarks."
Sterling has filed a $1 billion lawsuit against the NBA and hasn't signed off on his wife's agreement with Ballmer.