Exclusive
Donald Sterling Sued By Ex-Girlfriend & Employee For Sexual Harassment & Racial Discrimination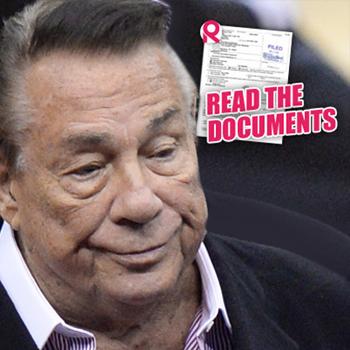 The drama continues for Los Angeles Clippers owner Donald Sterling. RadarOnline.com has learned that the disgraced billionaire is now being sued by ex-girlfriend, Maiko King, for sexual harassment and racial discrimination. King claims she performed sexual acts for the racist octogenarian and was terminated from her employment after voicing opposition to his controversial comments.
According to the lawsuit, filed on behalf of King by attorney Gloria Allred, Sterling used a "stream of racially and sexually offensive comments" that King "was subjected to during her former employment by Donald Sterling. Ultimately Ms. King's resistance to Mr. Sterling's stream of racist and sexist taunts caused him to retaliate against her by terminating her employment."
Article continues below advertisement
The documents claim that King was married to an African-American when she met Sterling in 2005, and the real estate mogul allegedly encouraged her to leave him.
"He supported her financially and she worked for his foundation," the papers state.
King says Sterling would ask her "How could you be married to a black man?" and referring to the children she loved, asked, "Why would you bring black people into the world?"
Referring to his relationship with Ms. King, he said, "I want to take you out of the black world and put you in a white world." When he was angry with her, he told her she should "move back to the ghetto with a black man."
Paid $10,000 per month for her services as Sterling's "personal assistant," King would accompany Sterling to the pharmacy to pick up erectile dysfunction pills, but allegedly he would often complain about the cost, and ask his physician for free samples.
In addition, she claims, Sterling would often walk around his house naked, and didn't care if the staff saw him in the buff.
The horny basketball owner also grew frustrated with his sexual performance, and asked King to bring other ladies to join their romantic encounters, but she refused.
The lawsuit seeks unspecified damages, attorney's fees and other costs.
Story developing.