Exclusive
'It Wasn't Racism!' Austrian News Reporter Who Accosted Kim Kardashian In Blackface Says It Wasn't Offensive Because He Is Arab -- And Kim's Date Set The Whole Thing Up!​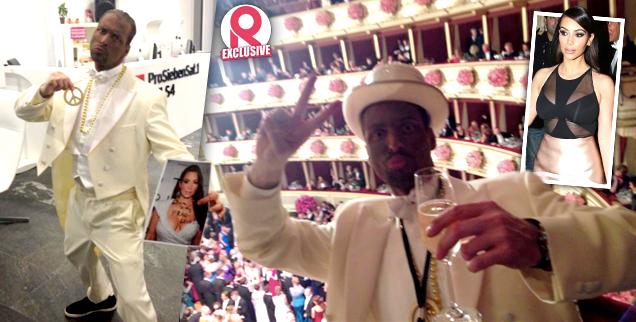 It was one hell of a ball. After Kim Kardashian's Opera Ball date Richard Lugner publicly slammed her as "annoying," things in Vienna went from bad to worse last night when she was accosted by a man in blackface at the storied event. It almost seemed too bizarre to be true, but only RadarOnline.com has photos of the jaw-dropping would-be prankster, and the details of why he says it wasn't racism!
Austrian news reporter Chris Stephan of Puls4 posted a photo of himself in blackface and wearing giant plastic chains at the ProSieben network offices on Thursday before the ball. Holding a picture of Kardashian with "My Woman" scrawled across it in German, he captioned the photo "Let's go! To the Opera Ball. Kanye is looking for his girl…"
Article continues below advertisement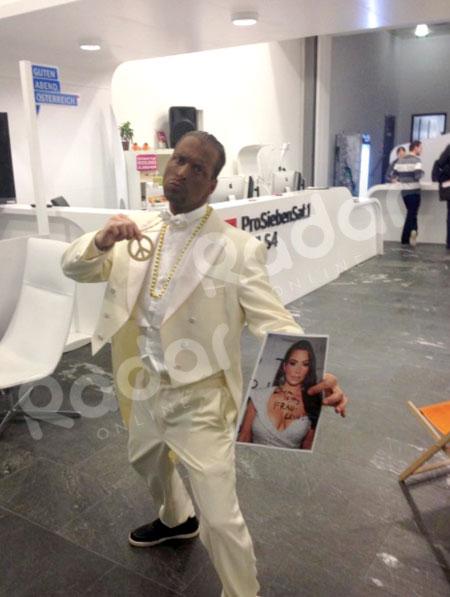 Later he posted another photo of himself in the exclusive VIP loge, captioned, "I made it into the Loge but Kim is gone … sh*t"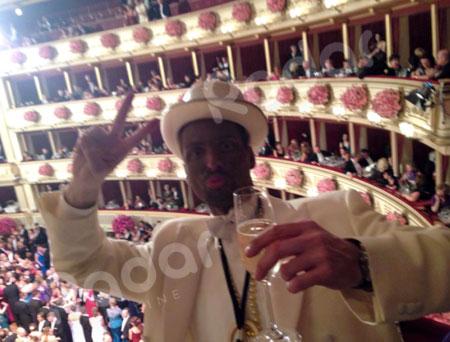 Still, he did manage to make an impression on Kardashian, who reportedly left after seeing his tasteless attire. In addition, she was reportedly asked to dance to "N*ggas in Vienna" by another guest riffing off of her fiancé Kanye West's song "N*ggas in Paris," and was offended by his use of the N-word. Stephan blames that gaffe on German TV presenter Oli P.
And this morning, Stephan insisted that he had done nothing wrong despite Kardashian's apparent discomfort -- and that her date had set the whole thing up!
"I was nice and gentle!" he said Friday morning. "Kim's date Richard Lugner called me and said 'Kim wants to see her man, Chris do something.' I even got dressed just for that and got into the Opera free because of it. Thanks Richie!"
He continued, "I'm really sorry that the story has gotten so messed up and misunderstood. I myself am Arab, born in Austria! I didn't want this act to be in any way racist, and I'm sorry again for anyone who felt attacked!"
Article continues below advertisement
In addition, his employers, Puls4 are taking his side over Kardashian too.
Revealed: 35 Secrets The Kardashians Want Hidden
"Like every year, Chris Stephan prepared a costume for the Opera Ball," the network said in a statement. "Last year he went as Silvio Berlusconi. To get an interview with Kim Kardashian, this year he dressed as Kanye West. Painting his face dark for that was part of the costume and not an act of racism. Also, he didn't in any way have any intention of insulting Miss Kardashian. Puls4 and also Chris Stephan want to apologize for this misunderstanding."
Kardashian and her mother Kris Jenner left the ball after roughly an hour, well before her scheduled departure.
As Puls4 noted, this isn't the first time Stephan has made a controversial splash at the Opera Ball. In 2011, he wore "tan face" as part of a Berlusconi prank and accosted Lugner's then-date, Ruby Rubacuari, previously known as one of Berlusconi's "Bunga Bunga" girls.
Watch a clip of the "pra​nk" here for a hint of what Kardashian might have experienced:
youtube=https://www.youtube.com/watch?v=BKMoBjvblFo&w=560&h=315
Do you think the whole thing was in bad taste or did Kardashian overreact? Let us know in the comments!