Khloe Kardashian Momager Misery On KUWTK! How Kris Jenner Separated Her From Dad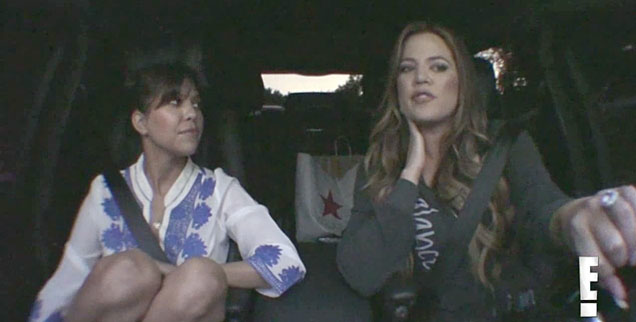 Khloe Kardashian was losing her mind this week on a Keeping Up with the Kardashians storyline.
But no, it wasn't about her troubled marriage to Lamar Odom, which has NOT been explored on the show despite making headlines for weeks.
Instead, during Sunday night's episode, the reality star was suffering from severe memory loss. Then Khloe went under hypnosis and found out she can never remember anything because of a traumatic incident in her past that involved her momager, Kris Jenner.
Article continues below advertisement
Khloe revealed that at the age of 13, Kris had prevented her from seeing her father, legal eagle Robert Kardashian, because he supported O.J. Simpson, who was accused of killing his wife, Kris' close friend, Nicole Brown Simpson.
"I remember having nightmares and I remember not being allowed to see our dad because he was on O.J.'s side and my mom was on Nicole's side," Khloe dramatically told hypnotist Caroline Fitzgerald about the famed trial of the century, in which Robert Kardashian was part of the dream team of lawyers who represented O.J. The football player was acquitted of the murders of Nicole and her friend Ron Goldman in 1995.
Article continues below advertisement
When hypnotist Fitzgerald asked what it was like not being able to see her dad, who died in 2003, Khloe admitted, "I was really cold to him when I was a teenager. He died very suddenly."
Without elaborating, Khloe said, "Then after, I chose to not be with my family for a long time. They reminded me too much of my dad."
Fitzgerald told the TV star, "There's that part of you that chooses to not be present so when you're not present, you don't remember. When things aren't feeling good, this little girl devised a way to not be present. This whole thing about forgetting the past--if you want to, Khloe, you can remember, allowing yourself to be at ease and at peace."
After pulling her out of a trance, the hypnotist told Khloe, "These memories are hard for you to retrieve. You were there, but emotionally, you were not there."
Khloe said in confessional, "I think with a few sessions under my belt, the hypnotherapy could work."
Before the session, however, viewers saw Khloe wondering if she had suffered the memory loss after a 2001 car crash.
"I went through a windshield," she recalled to her sisters when they all went to visit pregnant Kim Kardashian's chiropractor.
Article continues below advertisement
And Khloe claimed as a result, she could remember little from her childhood, even when she looked at family photos with sister Kourtney.
But she finally got to the bottom of it after a neurologist told her she had dementia, and explained that "Dementia is depression masquerading as memory loss."
Khloe decided a visit to the hypnotherapist was just what the doctor ordered!
Khloe also figured in another plot during Sunday's show, in which Kourtney and baby daddy Scott Disick decided to recreate Kris and husband Bruce Jenner's sex tape.
It all started when Khloe told Bruce over a family dinner out about the sexy photo shoot she'd recently done for Lamar.
"I'm feeling a little good about my man!" Khloe crowed.
But Bruce told her he didn't think it was appropriate to bring up the sexy pictures for her husband in front of her younger sisters, Kendall.
He said sexuality should be private.
Then, Kris embarrassed the heck out of the Olympian by blurting to everyone, "Bruce and I made a sex tape!" The mom admitted it happened 20 years ago and it was her idea.
Article continues below advertisement
Scott was delighted to find out about the sex tape because Bruce was always judging him, and--after he and Kourtney were unsuccessful at finding the real tape--hatched a plan to do their own recreation of it!
With Rob and Khloe "directing" the bizarre parody, called "Backdoor Bruiser," Scott and Kourtney donned crazy '90s style wigs to better replicate Bruce and Kris and got down and dirty in some faux sex positions.
The whole family except Kris was invited to dinner and afterwards, Kourtney said they would have a surprise screening of a 1994 film.
Bruce watched the movie sendup as everyone laughed, and then, thinking it was his actual sex tape (which he had believed had been erased years ago), stormed off!
"I don't think it's funny," the former athlete huffed.
After Kourtney ran after her stepdad and assured him it was a joke video, however, Bruce came back and watched it and chuckled with the rest of the clan.
Article continues below advertisement
While sources have said Bruce's marriage to Kris is on the rocks, on Sunday's KUWTK, he admitted to his family, "Kris and I, when we first got married, certainly had our wild days."
Scott pointed out, "We can't talk about sex but you're banging on camera."
Bruce concluded, "Maybe I should be easier on you guys when you have your little sexual talks."
In his confessional segment, Bruce shrugged, "You kind of do stupid things when it comes to sex when you're younger. In a ten year period I had six children with three different women. Oops. I guess I'm not one to talk!"
The last plot on Sunday's show involved Kris and Kendall not getting along because the momager and her model daughter have very different interest
s.
Kendall, an outdoorsy girl, scoffed at her mom when she showed up in full hair, makeup, dress, and high heels to a horse stable where her daughter was riding.
"Kendall, do you want to get a manicure?" Kris asked. (She didn't)
When the teenager told Kris she wanted to spend some of her modeling money to buy a pickup truck, the family matriarch hated the idea.
And Kris' feelings were hurt when Kendall was late for a lunch date with mom because she was kayaking with her half brother, Brody Jenner.
But at the end of the episode, Kendall and Kris kissed and made up, and agreed to accept their differences.
"I'm so proud of you," Kris said.
Kendall said she got her fashion sense from Kris -- and so, she wasn't all "Jenner"!
"She helped shape me into the woman I am," Kendall told the cameras.