Exclusive
Kris Jenner's Talk Show -- Axed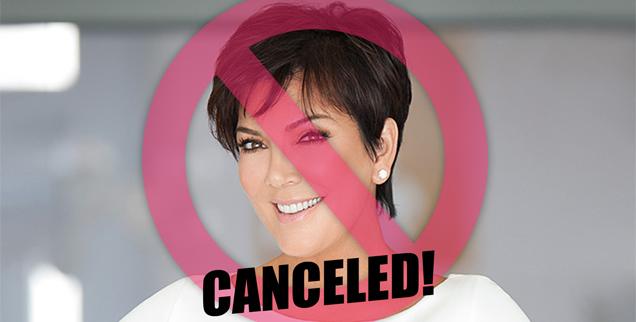 Kris Jenner has been told by FOX executives that her six-week trial run at being a talk show host will be just that -- it's not coming back for a second run.
The mother-of-six turned manager was recently told, "There is no chance the talk show is going to get a green light from FOX. The ratings were averaging an abysmal 0.8 and advertisers were less than enthusiastic about it."
"Kris did get a ratings bump for her last show when Kanye West revealed the first baby pic of daughter, North West, with Kim, but that was a one time shot in the arm and it wouldn't be indicative of what the ratings trend would be," the source close to the production told RadarOnline.com.
Article continues below advertisement
The revelation about Jenner's demise leaves few standing in the crowded field of daytime talkers, including Katie Couric, Steve Harvey, as well as fall hopefuls Queen Latifah and Bethenny Frankel.
Jeff Probst and Ricki Lake were also cancelled after one season.
"It's a very crowded market and Kris didn't do anything to set herself apart from the field. Believe it or not, most of America doesn't want to hear about the Kardashian's for an hour everyday," the source revealed.
FOX's panel-format talk show The Real -- which, like Kris, launched its test run on July 15 -- is "expected to be picked up" after it edged out Kris in the key female demographics.
FOX isn't expected to make a formal announcement for a few weeks, out of respect to current situation engulfing the family -- the marital crisis of Khloe Kardashian and husband Lamar Odom.
"It will be announced in a low key fashion, probably on a Friday afternoon so it won't generate a ton of negative press for Kris," the insider added.
A source close to Jenner said: "There have been absolutely no discussions about this and FOX and Kris will not know for at least another month whether or not the show is coming back."