Jon Gosselin Has Hit Rock Bottom, Says He Doesn't Pay Kate Child Support For Eight Kids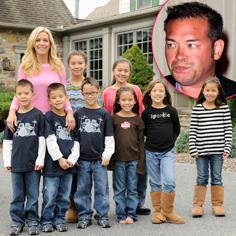 Jon and Kate Gosselin's relationship is broken beyond repair after their nasty divorce and now bitter lawsuit battle and the father of eight has revealed that he doesn't pay his ex a single penny of child support.
Once raking in the dough from the reality show and appearances, Jon admits that he has hit rock bottom "20 times" and while he's working as a waiter now he doesn't speak to his ex-wife and doesn't give her any money for their kids.
Article continues below advertisement
"I don't have a relationship with Kate. There is no relationship. Text and email. That's it," Jon told Entertainment Tonight's Brooke Anderson.
He says their relationship has been strained for four years and explained why he doesn't pay child support.
"Kate and I both support the children financially because she takes care of school and all that stuff but I take care of the exact same things she takes care of. I buy their own groceries, they have their own groceries at my house, their own bedrooms, their own stuff, it's doubled."
Jon is currently living in a cabin the woods with no television and waiting tables to make ends meet but said that he wouldn't change the path his life has taken.
"I don't regret anything," he said.
radar_embed service=brightcove src="http://c.brightcove.com/services/viewer/federated_f9?isVid=1&isUI=1" width="480" height="270" fv="videoId=2681608456001&linkBaseURL=http%3A%2F%2Fwww.dailymail.co.uk%2Ftvshowbiz%2Farticle-2424935%2FJon-Gosselin-reveals-waiting-tables-make-ends-meet-losing-fortune-divorce.html&playerID=1989148206001&playerKey=AQ~~,AAAAAFSL1bg~,CmS1EFtcMWELN_eSE9A7gpcGWF5XAVmI&domain=embed&dynamicStreaming=true"