Jodi Arias Says She 'Deserves To Live With The Memories' Of Butchering Travis Alexander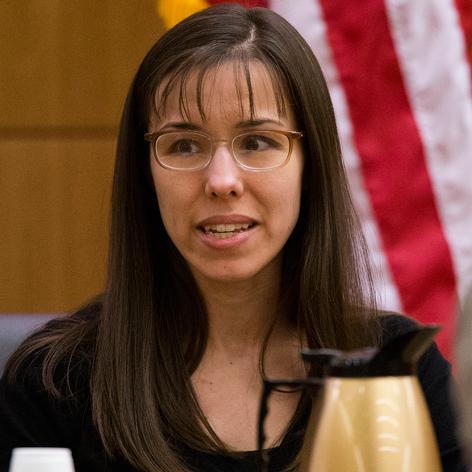 Working hard to disprove the prosecution's claim of premeditation and painting a picture of being the target of terrifying attacks at the hands of a sex-crazed abuser were once again the main themes of the day in the Jodi Arias murder trial Tuesday as the defense fights to keep its 32-year-old client off of death row.
As Arias answered Kirk Nurmi's questions on redirect about feeling pressured to succumb to Travis Alexander's sexual demands before she killed him, the attorney attempted to portray her as the naive victim of a man with a predatory sex drive.
Article continues below advertisement
Nurmi hammered home his point by once again asking his client about the alleged abuse she suffered -- reminding the jury in Arizona's Maricopa County Courtroom of Travis' alleged explosive temper that Arias claims led to the abusive incidents between them.
One day, Arias testified, after Alexander allegedly choked her out she thought of clawing at his face, but then her arms got heavy and she passed out, reported the Arizona Republic from inside the courtroom.
Despite his purported X-rated desires, Arias claimed Alexander was too embarrassed to get KY jelly for their illicit sexual escapades, "Travis did not want to be seen buying it," she said, prompting an angry objection from prosecutor Juan Martinez.
Much of Arias' self defense argument has hinged on the claim that she doesn't remember everything that happened on June 4, 2008, when she shot the motivational speaker and devout Mormon in the face, stabbed him 27 times and slit his throat from ear to ear.
MORE ON:
Celebrity Justice
Article continues below advertisement
"I have made attempts to piece things back together," she told the court, before admitting, "There's a part of me that doesn't ever want to remember it."
Arias went on to admit that she deserves to live with the memories, "It was my actions and my responsibility," she said.
The amateur photographer testified that ruined naked photos and Travis' dropped camera triggered his temper on his final day alive.
"I was afraid that he was going to bring me to the edge again," Arias said -- to which Nurmi asked, "What edge?"
"Death," she replied. "I remember screaming and dropping the knife... It's a horrible feeling.
"When I was cornered I didn't feel like I had any other choice. I considered myself a nice person, and I couldn't believe that had happened."
On Wednesday, Judge Sherry Stevens will allow the jury to ask questions directly to Arias, a result of a jury reform act from several years ago. The jurors' questions first will be reviewed by the judge, prosecution and defense. Jurors have submitted nearly 100 questions for Arias and the judge will rule on objections from the defense and prosecution, deciding which ones will be asked.
Those questions may offer tremendous insight into how the jury views the case and strength of the evidence.
Stay with RadarOnline.com for updates and daily live streaming of the bombshell trial.