Jodi Arias Sent Flowers To Victim's Grandma After Killing Because It's 'Worse' Not To Send A Gift!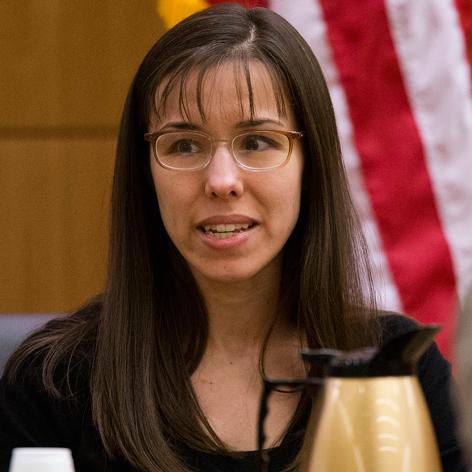 Jodi Arias read from her journal attempting to explain what was NOT written as much as what was jotted down on Tuesday but once again hit what has turned out to be an emotional tripwire in the case.
Arias sent flowers to ex boyfriend Travis Alexander's grandmother after killing him, an act that has sparked outraged comments and visceral reactions from trial observers.
As she previously testified, Arias again said Travis' grandmother was his only family member she met. She added that it would have been "worse" not to send a gift, a twist of logic startling even for this trial, which has featured graphic sexual content and three different versions of how Alexander died told by the defendant.
Article continues below advertisement
Arias,32, is facing the death penalty in Arizona and charged with first degree murder. She admits to killing her one-time boyfriend on June 4, 2008. Alexander, 30, was stabbed 27 times, shot in the face and had his throat slit.
Defense attorney Kirk Nurmi sought to have Arias clean up several areas that the prosecution focused on during cross-examination. Arias testified Tuesday that she could have obtained a "less traceable" gun from various friends and family members. The prosecution has asserted that she shot Travis with a gun stolen from her grandfather. She claims the gun belonged to Alexander and she grabbed it as he chased her in a rage.
She testified "I wish I could turn back the clock and make some different decisions," which many might see as the understatement of the trial. "We'd all be in different places now," she added.
Nurmi once again sought to have Arias explain why key events were NOT written in her journal, including Alexander's alleged attraction to young boys.
"I wouldn't want to remember that," she told the court Tuesday.
But she did write about Travis, "Something is just off with that boy," in a section about not wanting to marry him. This was written several days after she claims she caught him pleasuring himself to the photograph of a young boy.
She also explained that Alexander sometimes read her journal, leading her to leave out key details.
Arias also claimed that Alexander once proposed to her over the phone.