From Childhood Abuse - Stabbing Travis Alexander To Death, Jodi Arias Squirms As She Is Quizzed By Jury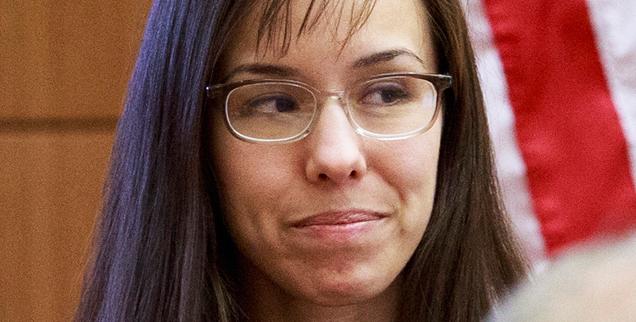 Murder defendant Jodi Arias is used to getting hammered by questions from the prosecution, but a twist in the bombshell trial Wednesday meant it was the jury that drilled her for a change — and they left no question unasked when it came to the details of Travis Alexander's grisly demise.
The 32-year-old femme fatale squirmed on the stand at Arizona's Maricopa County Court as she was bombarded with nearly 100 questions from jurors read by Judge Sherry Stevens. The questions randomly covered all of the topics raised so far during the two months of testimony.
Article continues below advertisement
In yet another case of courtroom deja vu, Arias was asked, "Why did you put the camera in the washing machine?" She calmly answered with the usual response she gives when asked an uncomfortable question: "I have no memory of that." (Arias has maintained throughout her testimony that she remembers little after allegedly first shooting Alexander.)
Wednesday's line of questioning was unusual in such a high profile case as Arizona is one of three states in the U.S. that allows jury members to question witnesses during a criminal trial, as a result of a jury reform act. The jury repeated many of the questions that had already been asked by both the defense and prosecuting attorneys, prompting legal experts to suspect that they are trying to see if she changes her story.
Arias faces the death penalty if convicted of first-degree murder.
The session provided a valuable glimpse for verdict-watchers into the panel's thoughts after hearing Jodi testify about practically every detail of her life, from a self-described abusive childhood in California to her stormy romance with Alexander and her conversion to the Mormon faith.
As expected, the majority of the questions were about the night in June 2008 when she stabbed Alexander 29 times, slit his throat from ear to ear and shot him - and the aftermath of the bloody killing. (Original reports said she stabbed Alexander 27 times.)
Article continues below advertisement
"Why would you continue to stay with someone who had sex with you while you were sleeping?" asked one juror, through Stevens. "I was in love with him," replied Arias.
Throughout most of the testimony the murder defendant appeared calm and collected, responding in detail regarding the torrid tale that she has already told many, many times, but when asked: "Why did you put Travis' body back in the shower?" Arias stumbled temporarily before falling back on her standard response, "I don't want to speculate because I don't remember…" she mumbled.
Arias appeared more sure of herself when the issue arose of why she sent flowers to Alexander's grandmother after she had killed him, "In retrospect, it probably wasn't a good idea but I thought it was more insensitive not to do it," she said.
"Why did you take the rope and gun with you?" was another question, to which Arias replied, "There were a lot of actions that day I don't remember, but in terms of disposing of it, I felt I had done something wrong."
Article continues below advertisement
A major issue for the jury and those listening to Jodi's 15 days of testimony was: if she killed him in self defense, then why didn't she call 911 as his bloody body was on his bathroom floor?
"I was very scared of what was going to happen to me. I felt that I had done something wrong. I don't have an adequate explanation for my state of mind," she claimed.
"It was like mortal terror, I was scared for my life. I thought he was going to kill me," she said of the day of the slaying. She also added she didn't want to go back through all the alleged different incidents that were triggered after, she claims, she walked in on him looking at child porn "I was embarrassed and ashamed," she claimed.
"If you shot Travis first, how did the casing land in blood?" asked one juror, which made Jodi appear visibly shaken. "I don't believe the casing landed in blood," she said. "I know that we struggled but to my knowledge there was no blood on the floor."
Earlier in Wednesday's testimony, Arias meticulously reenacted exactly what happened at the moment of impact when Travis allegedly attacked her after she dropped the camera. "It slipped, the best way I can describe it is when you go to catch a football and you fumble it… I tried to catch it and it bounced and rolled onto the tile," she claimed.
Article continues below advertisement
"At that point he got very angry, he stepped out of the shower, he lifted me up from the crouched position and he body slammed me on the tile."
For more on Jodi's testimony on the alleged violent events, check out KPNX 12 News' video here.
The unconventional method of drilling by the jury is permitted in others states including California, but many legal experts do not think that it is a good idea.
"It becomes too difficult, too tempting for a juror to lose their role as an impartial fact-finder and slip into the role of an advocate, and I think that's contrary to what the whole justice system is based upon," Los Angeles-based defense attorney Mark Geragos told AZFamily.com.
"In effect, you've deputized the jurors as investigators," he added.
Keep checking back with RadarOnline.com for all the latest updates and to watch daily live streaming of the bombshell Jodi Arias murder trial.