Jenny McCarthy's FILTHY Appearance On Watch What Happens Live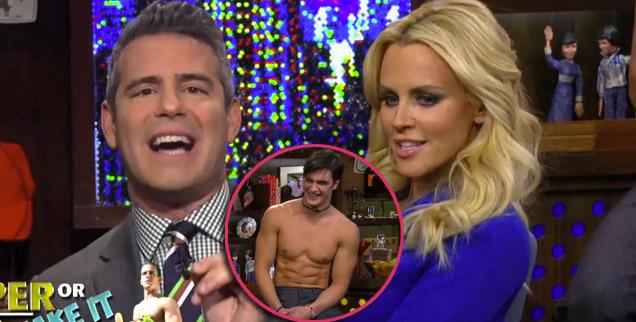 Andy Cohen said it best: "In a galaxy of filthy shows -- and I think we might have 380 shows -- this might be the dirtiest!"
Yes, it was.
In promoting her new VH1 talk show, Jenny McCarthy delivered a sex-fueled string of lines on Thursday's Watch What Happens Live, including a special message to her crush Bradley Cooper, a well-placed fake tattoo of Andy's face, and a steamy moment with Super Bowl-featured Calvin Klein model Matthew Terry.
Article continues below advertisement
In a bit that was a lewd take-off of The Price Is Right, Jenny guessed prices of items (such as bananas and turkeys), and correct answers correlated to Terry removing his clothes. When his shirt was off, Jenny unapologetically groped the 21-year-old hunk.
The Chicago native, who burst on the scene two decades ago as in Playboy's Miss October 1993, also did a bit with an interposed image of Cooper, saying if he was actually there, she'd tell him, "I love hairy b***s and I know you have them -- and no longer have a hairy b***h -- and you have a clean runway to get after it."
The 40-year-old -- who at one point, showed off a phony tattoo of Andy's head on her upper, inner thigh -- then played a word association game asking her the first thing she'd say to a celebrity who appears on her new VH1 show.
Watch the video on RadarOnline.com
Among the answers:
Beyonce: "Where'd you get your weave?"
LeAnn Rimes: "Do you hate Brandi, cause I would?"
Kim Kardashian: "Is that baby really Kanye's?"