Jenny McCarthy Strips Down To Discuss Her New Show…From A Bathtub!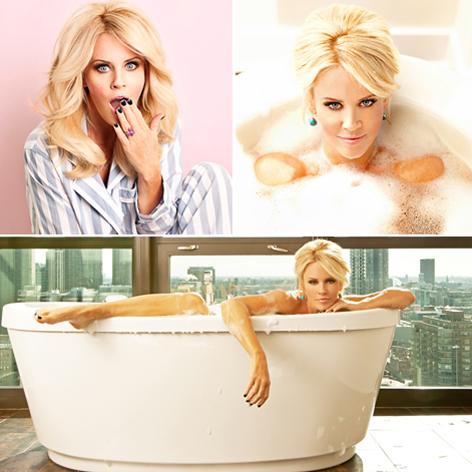 Jenny McCarthy is taking the plunge into late night TV and true to her outrageous personality she's talking about it from her bathtub.
The former Playboy cover girl let the Chicago Sun-Times magazine, SPLASH, into her luxurious apartment for a revealing photo shoot and interview in which she comes clean about The Jenny McCarthy Show.
The outspoken blonde is bubbling over with excitement at her quirky new VH1 venture which she promises will be as real as ever.
Article continues below advertisement
"I can't fake anything," she told the magazine. "Here's me, here's all of me. I am smart, I am dumb, I am secure, I am insecure. I'm all of those things, and hopefully people will see that."
The show which will feature go-go dancers, a DJ and even a bottle-boy named Ben is described as "a cocktail party with celebrities."
Her own life however has settled down somewhat since she left Los Angeles to start fresh in Chicago with her 10-year-old son, Evan.
"The whole goal was to move out here so he could have friends — he didn't have any in LA," she said. "So now we live next door to my best friend Julie and her three boys, and my friend Colleen, and when I'm gone, he has his friends and that's the way it should be."
Unfortunately McCarthy currently has to travel to New York to film but she hopes if it's a success to move it to Chicago.
"If my show is a real success, it's coming here and they know it. By the end of the summer I'd love nothing more than to be shooting The Jenny McCarthy Show downtown."
The show premieres on VH1 on February 8 at 10.30 ET/PT.