Jenny McCarthy On Turning 40 'I'm In The Midst Of A Minor Mid-Life Crisis!'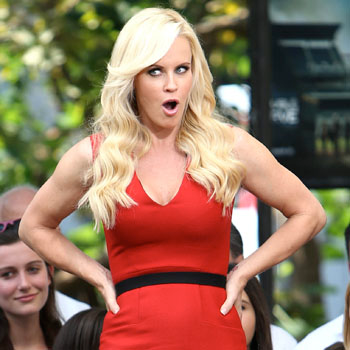 Getting older isn't easy!
Jenny McCarthy, who became an international celebrity when she posed for Playboy at 21, turned the big four-oh on Thursday, sharing her thoughts and fears about the monumental birthday on her blog for The Chicago Sun-Times, and RadarOnline.com has the details.
"Through the years I've heard old people say, 'time goes by so fast' and 'I don't feel like my age.' Sadly, I am now one of those old people," McCarthy admits.
Article continues below advertisement
"Turning 40, I noticed I'm in the midst of a minor mid-life crisis. I bought a sports car, started dating young guys and I'm twirling glow sticks at night clubs with kids that could be my own if I had one in my youth. I know it's stupid, but I'm not alone. I just notice I'm taking on the characteristics of a 40-year-old guy's mid-life crisis, not the typical girl kind."
Though she notes that her body still looks hot, McCarthy regrets "all those spring break years in Daytona Beach, Florida," admitting that "there is not much you can do about skin."
"Some other fun aging things I can throw out there are: saggy boobs, receding gums, back pain, wrinkles, poor eyesight and muscle loss."
However, getting older isn't all bad.
"Even though age comes with morbid conditions, I must say, it's worth it for the wisdom that you gain. Sounds a little yoda-ish, but all the years of self- realization and work I've done on myself makes me ok with where I'm at in my life. I know who I am, I work my ass off to provide for my boy, I have an amazing son and we are both healthy. What better present can I possibly ask for?"