Did Jim Carrey Bore Jenny In Bed? McCarthy Blogs About Boring Sex With Long Term Ex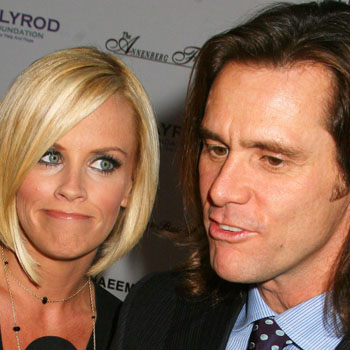 Jenny McCarthy may be sexy, but even the former Playmate has trouble staying interested in sex when in long-term relationships!
The 39-year-old, who famously dated Jim Carrey for five years, admits to getting bored in the bedroom during her monogamist relationships and offers advice to people suffering the same sexual problems in a new blog for The Chicago Sun-Times, and RadarOnline.com has the details.
Article continues below advertisement
"How in the heck can anyone stay interested in having sex with the same person for years? Being a serial monogamist, I will admit to having to force down a few drinks to even get in the mood after being in a long relationship," she reveals.
The actress, who recently got naked for Playboy, turned to her friends for suggestions on how to keep life in the bedroom alive, which included alcohol, to "help them unwind and get a little dirtier than usual," watching porn, a trip to Las Vegas and great lube (she suggests watermelon flavor Sex Tarts).