Jim Carrey Flaunts His Abs And New Much Younger Girlfriend On Beach Date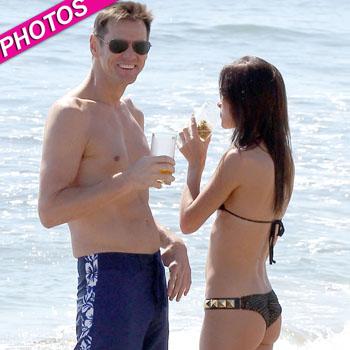 Jim Carrey has a hot new girlfriend who looks to be less than half his age and he doesn't care who knows it.
The 50-year-old granddad was seen soaking up the rays during L.A's heatwave on Saturday, with a brunette beauty clad in a tiny bikini and he appeared to be very pleased with himself.
Jim, who looks in great shape himself, was recently dating 23-year-old Russian student Anastatisa Vitkina on the back of his split from Jenny McCarthy who he was with for five years.
Article continues below advertisement
The Playboy covergirl is now nursing a broken heart after recently splitting from Chicago Bears star Brian Urlacher.
But Dumb and Dumber star Carrey seems to be happier than ever and proudly showed off his toned torso.
Jim and the unnamed woman took a romantic stroll along the beach arm in arm, snapped pictures, had a few drinks and later took a dip in the ocean to cool off.
Well she is a Smokin' babe!