Jenny McCarthy Opens Up On Drug-Addled, Lesbian Adventures Of Yesteryear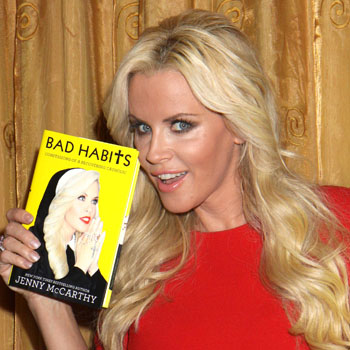 Move over Lindsay Lohan!
Jenny McCarthy dishes her dirt by the shovel in her new memoir Bad Habits: Confessions of a Recovering Catholic, opening up about her experiences ranging from lesbian orgies to opiate withdrawals.
The Chicago native, who first appeared in Playboy as Miss October 1993, said her fellow bunnies devoured drugs (such as Ecstasy and Vicodin) by the cartload and on one occasion in Hawaii, it turned into a full-blown exhibition of erotica.
Article continues below advertisement
"Holding up drugs in front of a group of Playmates was like holding up an arm to a cannibal tribe," the 39-year-old Chicago native wrote. "We jumped on the box fighting to get as many little white capsules as possible. Instead of saving some for later, we all pounded at least five at once."
"It was incredibly intense … so much so that we all began to express love for one another by making out with each other."