Jenny McCarthy Dishes Out Advice As Chicago Sun-Times Columnist And Blogger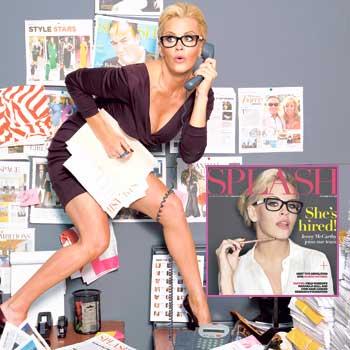 Jenny McCarthy has a new gig. The model-actress and best-selling author has joined Splash by the Chicago Sun-Times as a regular columnist and daily blogger beginning Oct. 22.
The Chicago-area native will launch her weekday blog on Monday, and her first print column will debut on Sunday, Oct. 28 and appear every week after that in the Sun-Times' Sunday supplement magazine, Splash.
McCarthy's "Ask Jenny" column will feature a range of topics about love, sex, parenting, friendship and fitness.
Article continues below advertisement
The buxom blonde has a lot of personal experiences to draw from.
As RadarOnline.com previously reported, McCarthy's new memoir, Bad Habits, reveals a past that includes lesbian orgies and drug use!
The former Playboy cover girl will write from her new home in the western suburbs of Chicago and occasionally from the newsroom on Fridays.
McCarthy began her relationship with the Sun-Times in May, when she moved to Chicago and signed on to do a once-a-month charity column. It ws such a success, her new role was designed.