Exclusive
Midlife Crisis? Danny DeVito Looking To Buy A Porsche Or A Ferrari!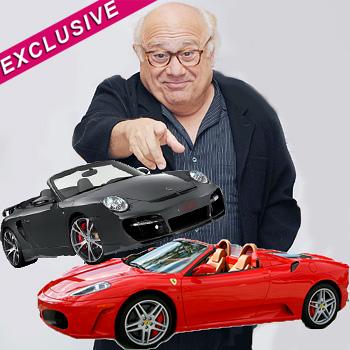 Article continues below advertisement
"Danny has been embracing the single life," a source revealed. "He is revisiting his youth and feels like a young man again and can do whatever he wants.
"His good friend Jack Nicholson lives a care-free and easy life – and Danny wants exactly the same at the moment.
"He's done his duty as a parent, raising his three kids, and now that they're adults, he's looking to cut loose.
"The first steps of this transformation are trading his current ride for a flash car; he's always wanted a Porsche or a Ferrari and he's been trying them out for size."
As RadarOnline.com previously reported, Danny's wandering eye was the reason behind his split with Rhea. She was finally fed up with his flirty and inappropriate ways and instigated a split.
"He may not appear to be a ladies' man, but Danny certainly gets a lot of female attention," a source close to the family told RadarOnline.com.
"Danny can be quite the flirt and because of his powerful status in Hollywood, he's not ashamed to abuse his position and chat-up young, aspiring woman looking to make it in the industry.
Article continues below advertisement
"Despite his reputation as a lovable, funny guy in movies and on TV, Danny's actually quite the flirt and ladies' man. Like a lot of red-blooded males, if he sees an attractive girl in a coffee shop or walking down the street, he will give her the eye.
"After years of turning a blind eye to it, Rhea finally snapped. She had enough of his bad-boy behavior and wanted an end to their marriage.
"The break-up has been on the cards for a long time, probably over 10 years, because they haven't been happy for a long, long time," the source revealed.
And Danny's shocking split from Rhea was no surprise to a former crew member on one of his movies who exclusively revealed that the Twins star once cheated with an extra on the set of one of his films.
According to the film insider, Danny promised one young blonde extra on the set of 90s movie Hoffa that he could make her a star – and he would frequently invite her into his limo where the pair would get frisky.