Exclusive
PHOTOS: Last Action Hero -- A Look back At Arnold Schwarzenegger's Movie Career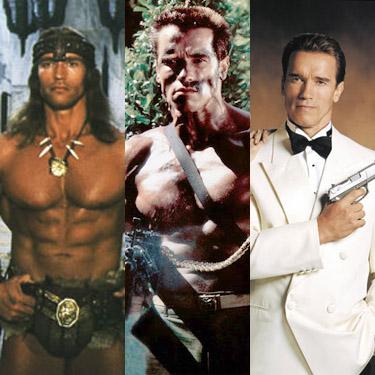 Way before hitting the headlines around the globe with news of his baby scandal, the world knew Arnold Schwarzenegger as an A-List movie star.
RadarOnline.com takes a look back at some of the former California Governor's most celebrated movie roles that helped catapult him into a Hollywood heavyweight.
In 1982, Arnold starred in Conan The Barbarian, where he played the title role of Conan, leading a ragged group of adventurers in a quest to solve the riddle of steel and find the sorcerer responsible for the genocide of his people
Article continues below advertisement
Two years later Arnold landed the lead role in the blockbuster, The Terminator. Arnold played a superhero assigned to stop a cyborg that is sent from the future on a deadly mission. The film was an instant smash hit and grossed more than $78-million worldwide.
Fresh off The Terminator success, Arnold got right back in front of the camera in the 1985 movie Commando. He played John Matrix, a retired commando who has just a few hours to find and save his daughter from a mean dictator.
Fast-forward a few years and Arnold's got another action flick hit on his hands -- this time it's Predator. In the 1987 film, Arnold played Major "Dutch" Schaefer, a soldier who leads a team of commandos on a mission in a Central American jungle but find themselves hunted by an extra-terrestrial warrior.
Later that same year, Arnold hopped back on the big screen in Running Man. In that film he played the role of an innocent man who now must try to survive a humiliating public execution gauntlet staged as a TV game show.
Article continues below advertisement
In his next few movies, Arnold put on his shirt and showed his softer side. Opposite Danny DeVito in the 1988 film Twins, Arnold played a physically fit, conservative man who searches for his twin brother who turns out to be a diminutive, small-time crook. The hilarious film grossed more than $215-million worldwide.
Arnie's resume continued to grow after Twins and showed versatility in his acting.
He went on to star in Kindergarden Cop and Total Recall in 1990, followed by the 1994 hits Junior and True Lies.