Howard Stern Apologizes To Lena Dunham For 'Little Fat Chick' Remark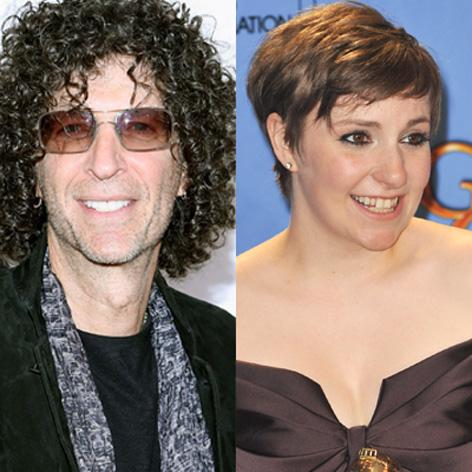 Howard Stern Monday said recent reports of his comments deriding Lena Dunham - the Golden Globe winning star and creator of HBO's Girls - amounted to "a hatchet job," only highlighting his most salacious excerpts and ignoring the fact that he's a self-professed fan of the show.
The controversy began on Stern's radio show last week, when the radio icon described Dunham as "a little fat girl who kinda looks like Jonah Hill, and she keeps taking her clothes off, and it kind of feels like rape.
Article continues below advertisement
"I learned that this little fat chick writes the show and directs the show and that makes sense to me because she's such a camera hog that the other characters barely are on."
When appearing on David Letterman Thursday, Dunham took the high road in reacting to the searing criticism from the 59-year-old King of All Media.
"I did find out that Howard Stern really hates Girls, which I'm a Howard Stern fan, and I believe he's earned the right to free speech, and he should go for it," Dunham, 26, told Letterman.
The America's Got Talent judge on Monday said he felt bad because he really loves the show and admires Dunham's work.
Stern sidekick Robin Quivers said she felt bad for Stern as "one-sided" reports circulated online, citing specific excerpts of the broadcast in an attempt to make him look like the bad guy.
"No one would ever say to those girls, 'Howard really likes the show,'" Quivers said.
Stern said he told producer Gary Dell'Abate to contact Dunham and let her know he wants to explain and apologize for his comments.
Article continues below advertisement
"It makes me feel bad and I think she is getting the impression that I somehow think she's just a talentless little fat chick," Stern said.
Fun fact: This year marks the 20th anniversary of Stern's star-launching autobiography, Private Parts.
Girls airs Sundays on HBO at 9/8c; The Howard Stern Show airs weekdays on SiriusXM.
radar_embed service=youtube src="https://www.youtube.com/embed/mJIIf5IbTyA" width="560" height="315"