Quentin Tarantino Shocks Reporters By Using 'N-Word' Backstage At Golden Globes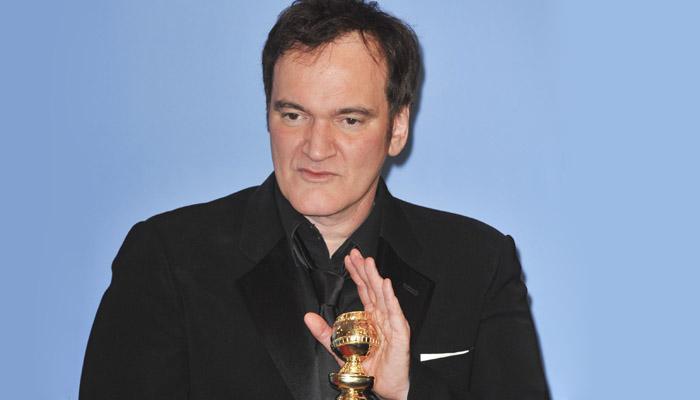 Only days after he verbally tussled with a British journalist about movie violence, director Quentin Tarantino shocked reporters at the 70th Annual Golden Globes when he used the 'N-word' while talking about his controversial film Django Unchained.
According to several media outlets, Tarantino used the racially-offensive term in the winners' area backstage at the Golden Globes while talking about criticism he's received for the extreme use of the 'N-word' in the film -- it's used more than one hundred times in the 165 minute movie.
Article continues below advertisement
When asked if he was ever shaken by the use of the 'N-word' while making Django, Tarantino uttered the actual wordwhile arguing that his critics are "saying I should massage. They're saying I should whitewash. They're saying I should lie," adding, "I would never do that when it comes to my characters…
"I think it's kind of ridiculous, because no one can actually say with a straight face that we use the word more than it was used in 1858 in Mississippi. So since they can't say that, what they're basically saying is I should lie," Tarantino said. "I should pretty it up. I should lie, and I don't lie when it comes to my characters and the stories I tell."
Reporters in the pressroom were visibly shocked by Tarantino's use of the word, but actor Don Cheadle, who followed Tarantino backstage for his win for House of Lies, used the opportunity to perhaps lighten the mood.
When Cheadle took the stage, he said: "Please no n—– questions. Black people questions are alright."
Django Unchained won two awards at the Golden Globes -- Tarantinto for his screenplay and Christoph Waltz for Best Supporting Actor.
This is Tarantino's second Golden Globe award for screenwriting; he previously won in 1996 for co-writing the script to Pulp Fiction.
In addition to the Golden Globes win, Tarantino has also earned an Oscar nomination for his screenplay.
Interestingly, he was not nominated as Best Director by either the Hollywood Foreign Press or by Oscar voters.