'Django Unchained' Slave-Themed Action Figures Spark Outrage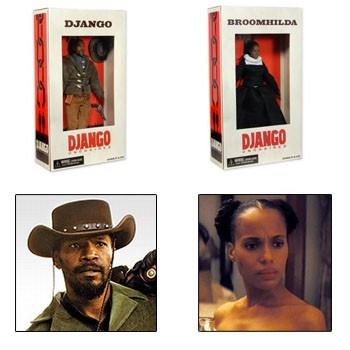 The producers of the Quentin Tarantino film Django Unchained are coming under fire for a line of action figures tied to his slave-themed film.
The toy line features eight of the movie's main characters, but it's the ones representing characters played by Jamie Foxx , Samuel L. Jackson and Kerry Washington that are sparking anger.
The three superstar actors play slaves and as RadarOnline.com previously reported, Washington revealed she nearly lost her sanity while filming the controversial blockbuster.
Article continues below advertisement
The action figures, manufactured by toy maker National Entertainment Collectibles Association (NECA) went on sale this week on Amazon.com.
They range in price from $29.99 to $34.99, for the more high profile characters.
African-American activist Najee Ali, director of the advocacy group Project Islamic Hope, held a news conference Tuesday in Los Angeles where he called the toys "a slap in the face of our ancestors."