Exclusive
EXCLUSIVE DETAILS: Jamie Foxx Brawls With Ex-Manager At Usher Concert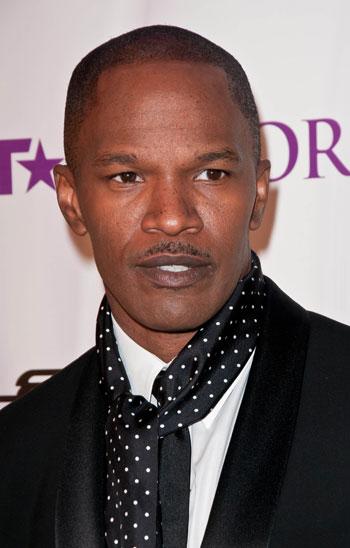 Oscar winner Jamie Foxx got into a fight with a former manager while his superstar pal Usher was performing live on stage at Avalon club in Hollywood, RadarOnline.com can reveal.
A whole list of celebrities at the packed club like Joe Jonas, Ryan Phillipe, Adam Lambert, Jenny McCarthy and Cheryl Burke, looked-on in disbelief as Foxx started brawling with the other man.
The drama unfolded at the Belvedere Vodka pre-Grammy party at the Avalon on Thursday night which was attended by around 1200 people.
Article continues below advertisement
A source told RadarOnline.com: "Jamie and the other guy started fighting about half way through Usher's set at around 11.30pm.
"The fight spilled to the outside area and I don't think Usher even noticed because the place was so packed with people.
"When they got outside security intervened and after some cops approached both men seemed to make-up with one another before they left.
"Some camera guy who was shooting B-roll got slightly injured in the fracas and his equipment got slightly damaged apparently.
'The club was packed and the atmosphere was great despite the bust-up between Jamie and the other guy."
Video footage after the event revealed a scowling Foxx leaving the venue with two male friends surrounded by the club's security guards.
Foxx's publicist Alan Nierob would not comment on the incident although he revealed that neither of Jamie's long-time managers Jaime King or Marcus King were at the event.
Hollywood police told RadarOnline.com Online.com that no charges have been filed and that they were not called out to attend any particular incident at Avalon.
The source added: "I don't know what the guy said to Jamie Foxx but he was really 'p***ed,' normally when he is out he loves to dance and have a good time but that didn't happen last night."
RELATED STORIES: