Quentin Unchained! Tarantino Goes Nuts On Reporter, Says 'I'm Not Your Slave!'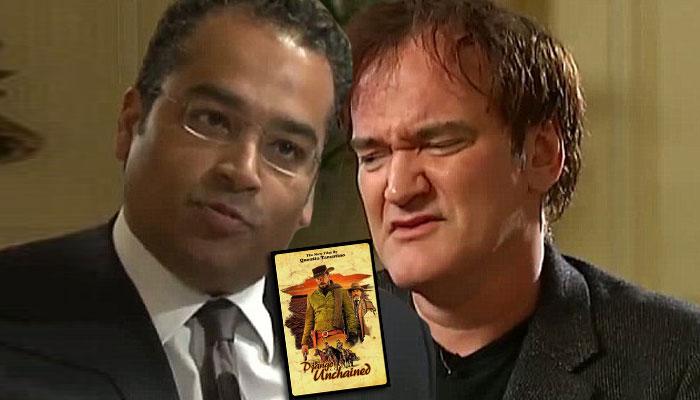 Quirky director Quentin Tarantino yelled at British journalist Krishnan Guru-Murthy during a television interview Thursday about his new film, Django Unchained, telling him "I'm not your slave," and "I'm shutting your butt down," among other bizarre comments.
Tarantino went berserk during the Channel 4 interview in London after Guru-Murthy, who remained remarkably unflappable, asked questions about the link between on-screen and real violence.
Article continues below advertisement
When asked why he believed there is no link between "enjoying movie violence and enjoying real violence," Tarantino, 49, snapped: "Do not ask me a question like that. I'm not biting. I refuse your question."
When the reporter asked 'why?', the director shot back: "Because I'm not your slave, and you're not my master. You can't make me dance to your tune. I'm not your monkey… and I'm saying I refuse."
Tarantino went on to say: "I'm here to sell my movie. This is a commercial for the movie. Make no mistake."
youtube
When the reporter then asked: "You don't want to talk about anything serious?" Tarantino replied: "I don't want to talk about what you want to talk about. I don't want to talk about the implications of violence.
"The reason I don't want to talk about is I've said everything I want to say about it.
Article continues below advertisement
"If anyone cares what I have to say about it, they can Google me, and they can look for 20 years on what I have to say about it. I haven't changed my opinion one iota."
When the reporter pressed him and said: "You haven't fleshed it out…" Tarantino responded: "It's not my job to flesh it out… and I'm shutting your butt down… this is a commercial for my movie."
Watch the video on RadarOnline.com
Guru-Murthy, 42, later told The Daily Telegraph: "I was surprised about his reaction to the questions, which were very gentle. I love a lot of his work. I wasn't looking for a fight.
"I would have thought if you invite somebody to interview you it is better to try to answer the questions rather than not.
"No interviewee has ever said 'I'm not your slave...I'm not a monkey' to me before."
Despite the unpleasant exchange, Tarantino did not walk out of the interview. Hours later at the film's London premiere in Leicester Square, Tarantino said: "It's been a good week."
Last week during a television interview in the U.S., Tarantino became rattled when asked similar questions, saying any comparison with violent films and the recent massacre at Sandy Hook Elementary School in Newtown, CT. was "disrespectful".
Article continues below advertisement
The film's world premiere was cancelled in the wake of the school shooting, which occurred just days earlier.
This is not the first time one of the people associated with Django Unchained has gone nuts on a reporter. In early January, one of the film's stars, Samuel J. Jackson, pressed a white reporter to stopsaying "the N-word" and say the actual word during an interview. The reporter refused, promoting Jackson to say he would not answer the reporter's question about the repeated use of the hateful term in the film. (See video below.)
Samuel L. Jackson Presses Reporter To Say The 'N-Word' (At 13:55 Into The Interview)
The Oscar nominated Django Unchained -- which also stars Jamie Foxx, Leonardo DiCaprio, Christoph Waltz and Kerry Washington -- is in theaters now and is rated R for extreme violence.