NY Homeless Man Given Boots By Cop Has '30 Pairs Of Shoes' At His Apartment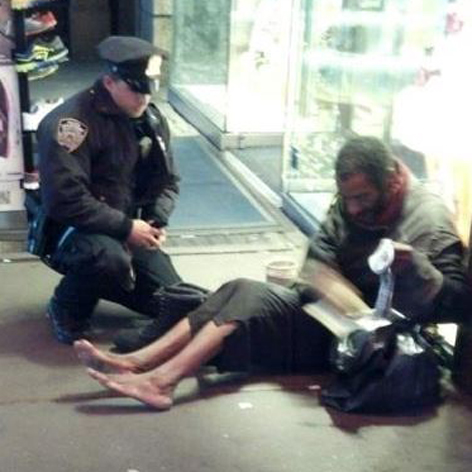 A simple act of selfless generosity has sparked a bitter backlash after it has been revealed that the homeless man who was bought brand new boots by a NYPD cop last winter has reportedly been scamming well-wishers and abusing the kindness of strangers.
Not only does barefoot beggar Jeffrey Hillman have an apartment and a preacher paying his bills, he also has bags of shoes sneakily hidden in a garbage bag, according to the New York Post.
Article continues below advertisement
The allegedly faux homeless man was spotted Sunday night counting a fat wad of bills while riding the subway from his panhandling spot in Times Square to his home in the Bronx, and the immoral act was caught on tape by a Post reporter.
Just days earlier when Hillman was spotted barefoot, begging and wearing a sign that read "HOMELESS," he claimed that he chose not to wear shoes despite reportedly owning 30 pairs of perfectly good footwear, the Post reports.
As RadarOnline.com previously reported, Officer Lawrence DePrimo was working a counterterrorism post last November when he encountered the shivering man and immediately disappeared and returned moments later with a new pair of boots, and even knelt to help him put them on. Unbeknownst to the guardian angel, a tourist from Arizona snapped a photo of his charitable act, which went on to become a viral sensation.
Article continues below advertisement
It later emerged that Hillman hid the $100 pair of Skechers out of fear of being mugged for them. "They are worth a lot of money … I could lose my life," he claimed.
"I have the shoes. People always ask me where are the shoes? I tell them they're in the bag," said Hillman, who reportedly wears shoes to and from home but ditches them when he gets to Midtown to beg for donations.
"I choose not to wear the shoes. Is that a crime? No! My feet haven't fallen off yet."
The panhandler said he never asks anyone for cash or gifts and that well wishers simply make donations when they see him walking barefoot in the city, although the alleged scam artist did admit that he has a roof over his head, complete with his own kitchen.
"I got my own apartment. I cook for myself," he confessed.
"I'm not robbing anybody. It's Wall Street. It's the people in these buildings," Hillman argued.
However, the preacher who helps the Army veteran pay his utility bills and gives him phone cards thinks it is wrong to con kind-hearted New Yorkers.
"He's done it 10-plus years. He can make 1,000 bucks a day" even though "he's got 30 pairs of shoes at home," revealed the Reverend John Graf of Bedminster.
radar_embed service=5min.com src="http://pshared.5min.com/Scripts/PlayerSeed.js?sid=1126&width=570&height=351&playList=517568459&sequential=1&shuffle=0"