They're Baaaaaa-ack! Gordon Ramsay Revisits Amy's Baking Company For 'Kitchen Nightmares' Season Premiere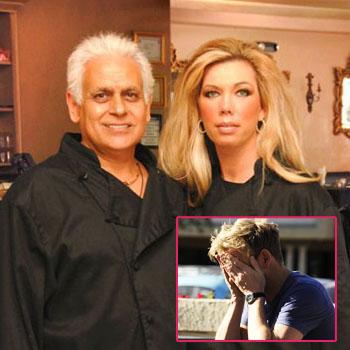 Article continues below advertisement
The fallout from their appearance resulted in backlash from customers — and the Bouzaglos placed blame on their struggling business on Yelp commenters, and even lashed out at Chef Ramsay.
Interestingly, last May Amy exclusively told Radar they would never invite Ramsay back to their restaurant, but obviously had a change of heart.
"He is a ginger head troll! He tried to ruin my business and my life," Amy said. "And he is obsessed with my husbands balls! No cake for him!!!"
Amy and Samy claimed to be victims of "cyber bullying" from several online bloggers and customers, who they habitually responded to online, adding fuel to the fire.
"Since Kitchen Nightmares aired we have not replied to anyone online. In the beginning we replied because these people were spreading malicious gossip and untrue slanderous things about my business. I took them for losers and opened fire with them to let them know that my husband and I are not suckers," Amy told Radar.
Article continues below advertisement
"And we are not going to let the 'Camel Toe Mafia' try to 'extort us out of a free pizza.' But that was when we were dealing with a handful of bullies here in Arizona. Now it is us versus the entire Internet. We are using our energy towards more positive lucrative opportunities now."
— The Ultimate Guide To Reality TV Shows
During the Season 6 premiere of Kitchen Nightmares, Ramsay catches up with the Bouzaglos to find out how life has changed for them since the original episode aired, and the media firestorm that ensued.