Exclusive
Amy's Baking Company Waitress Blew Tip Termination Out Of Proportion -- See The Surveillance Video Here!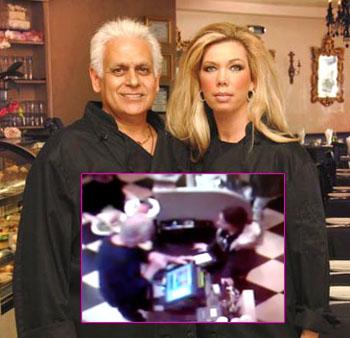 Article continues below advertisement
After working at Amy's Baking Company for about a month, waitress Miranda appeared on Phoenix's Mix 96.9 to talk about her experience with the Bouzaglos and told of the day she decided to pocket tips customers had left for her, ultimately leading to her termination.
"This is the video when Samy caught her stealing," Amy exclusively told RadarOnline.com.
"He did not yell at her, he told her to put the money in the jar and leave. She never threw it at him and he never yelled at her. She is a lying!"
Miranda's recollection of the incident during the May 17 interview went as follows: "I was working my shift on Friday and it got really, really busy. I was swamped, I had all these tables, I was doing everything, and one of our regulars came in. His personal friend left me my tip under the table, which people had been doing for the last few days after the show because they realized that I wasn't getting tipped. So I was taking them, of course, because legally that's my money.
Article continues below advertisement
"And Samy accused me of taking it. Stealing his money, is what he said to me. And he came to me in my face, yelling at me, 'Give me my money, give me my money.' I just looked at him in anger and told him, 'It's not your money.' I yelled at him and screamed at him. It was five dollars. Five dollars, he made a huge scene about like it's the end of the world. So I threw it at him and I walked out. And that was the end of it."
In the surveillance video footage obtained by RadarOnline.com, Samy and Miranda are clearly arguing at the cash register, and Samy can be seen waving his finger around, but at no point does he actually get in Miranda's face as she claimed.
"I witnessed everything. I was standing right there listening to her…" Amy is overheard saying in the video footage.
Then, when Miranda finally takes the five dollars out of her pocket and leaves it on the counter for Samy, Amy is overheard going ballistic.
Article continues below advertisement
"Here! She had it in her pocket, f**kin' b*tch threw it right there. That's all I need for the police! That's it, she's going to jail, this little b*tch."
But as RadarOnline.com exclusively reported on Monday, Amy and Samy do not plan to file any charges or prosecute Miranda and instead just want to move on with their business.
Miranda now works at a local Cracker Barrel restaurant, to which Amy laughs, "Cracker Barrel! lmfao!!"
Watch the video below — WARNING: This video contains graphic language.
radar_embed service=5min.com src="http://pshared.5min.com/Scripts/PlayerSeed.js?sid=1126&width=570&height=351&playList=517841306&sequential=1&shuffle=0"