Say Goodnight To The Bad Guy: A Look At Intricate Capture & Arrest Of Drug Kingpin Joaquin 'El Chapo' Guzman Loera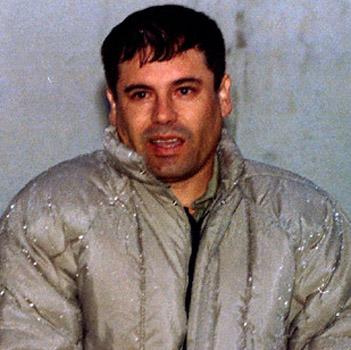 The notorious drug kingpin Joaquin "El Chapo" Guzman Loera was apprehended over the weekend, and officials said that the capture of the elusive real-life Tony Montana came down to a single cell phone.
Last seen in 2001 as he broke out of prison, the long hunt for Loera came down to a single cell phone Feb. 16 after authorities with Mexico and the Drug Enforcement Administration, Immigration and Customs Enforcement and U.S. Marshals were able to track the device to a Culiacan hideout the drug lord had used to corral piles of contraband.
Article continues below advertisement
The phone, it turned out, was linked to that of Loera communication lieutenant Carlos Manuel Ramirez; after one of Ramierez's lackeys was arrested, he split the beans on the operation and other locations involved in the illicit empire. The intel led Mexican authorities to discover a number of houses with steel doors and elaborate escape routes under the bathtub in each abode.
Beheadings & Mass Mutilations: Inside Mexico's Crazy, Violent Drug War
Next in custody -- one of 10 arrested during the bust week -- was Chapo underling Manuel Lopez Ozorio, who told officials he aided Guzman, Guzman's girlfriend and another woman to Mazatlan (where he was eventually captured). Sources told the AP that the precise location was sussed out via a wire ICE agents in Arizona, with one anonymous official saying the final stages of the manhunt "just all came together.
Article continues below advertisement
"We got the right people to flip and we were up on good wire -- the ICE wire was the last one standing, that wire in Nogales. That got him inside that hotel."
Mexican marines apprehended Guzman, who was armed, but did not try to open fire, which shocked one official.
"We never anticipated, ever," the source said, "that he would be taken alive."
As we previously reported, the 56-year-old Sinaloa Cartel head, a billionaire with the toys to show for it, was credited by many as being the world's biggest drug trafficker. His outfit, officials said, is tied to the sale of illegal drugs such as cocaine, heroin and meth in more than 50 countries.
Watch the video on RadarOnline.com:
Loera's already been named in indictments in seven federal courts on charges from murder to drug smuggling, with prosecutors in Chicago and Brooklyn vying to try the accused crime boss first. No decisions have been made as to whether to extradite Loera, a Justice Department official told the AP.