Mexican Drug War Ratchets Up Yet Another Notch - Cartel Sends Graphic Warnings Pinned To Victims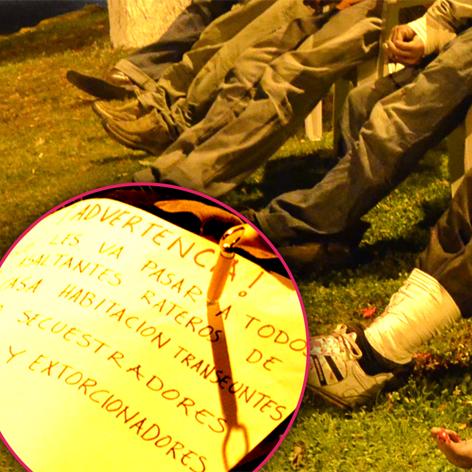 A bloodthirsty Mexican drug cartel wanted to make sure their warning to anyone who dared cross them was heard loud and clear by pinning gruesome notes on the bodies of their victims with ice picks.
Out of the seven bodies that were discovered sitting bolt upright in plastic chairs in the city of Uruapan in the Mexican state of Michoacan on Saturday, two of them had graphic signs driven into them aimed to strike fear into the hearts of potential rivals, reported the New York Daily News .
Article continues below advertisement
"Warning, this is going to happen to all muggers, pickpockets, thieves of cars, homes and walkers - as well as kidnappers, rapists and extortionists," read one the murderous messages that were found close to a traffic circle near a Pepsi bottling plant.
Police believe that the latest wave of killings is part of the ongoing drug war that has taken an estimated 70,000 lives over the past seven years.
According to BorderlandBeat.com, four of the seven victims have been identified as Santiago Gomez Ramos, 31, Jorge Alberto Tellez, 28, Cesar Basilio Ornelas, 17, and Alberto Rodriguez Vega, 29, all of whom were either laborers or window washers. It is assumed that they were killed on the scene as all of them were shot in the head and shell casings were found on the ground nearby.
The grisly discovery followed yet another week of crazed violence, with another seven bodies – including those of three off-duty federal agents - found shot dead in a bar in the city of Ciudad Altamirano.